Welcome!
Check out the arsenal of fitness and wellness programs listed below! New to fitness? A beginner to Yoga and Meditation? You have come to the right place! Looking for a challenging exercise experience from home? We've got you covered. Kids at home?
We have programming that will be fun for you and your little ones to experience while incorporating some light exercise!

For more fitness and wellness related programming and updates, please follow us on Instagram - canadore_panthers.
If you have missed any of our live sessions, most of our content will be archived here - Panther Sport and Wellness YouTube Playlist
Looking for more info on our Fitness Facilities?
Gentle Yoga
Facilitator: Carly Stong (CarlyStong.com)
Duration: 30-45 minutes
Move, breathe, and connect every Sunday morning in this slow burn, feel-good practice. Build strength and flexibility in a progressive way and leave empowered for the week ahead.
Bootcamp!
Facilitator: Brenda Thomas (Evolve Fitness, Parry Sound)
Duration: 30 minutes
Difficulty: Beginner to Intermediate
A conditioning class for strength and endurance. This total body class will combine functional movements such as lunging, squatting, pushing and pulling to tone the body. Each class is different and brings its own unique challenges. Modifications and progressions will be given to accommodate different levels and abilities.
A Mindful Moment
Facilitator: Carly Stong (CarlyStong.com)
Duration: 15 minutes
It doesn't take much effort to squeeze some mindfulness into your busy week. Simply commit to this once per week easy-to-follow practice right from your desk chair to help get over the mid-day slump, create clarity of mind, reduce stress, and focus, to name just a few benefits.
The ABC's: Abs, Back, and Core!
Facilitator: Brenda Thomas, Evolve Fitness
Duration: 30 minutes
Difficulty: Beginning to intermediate
Description: This is a toning class that targets the midsection. All of the exercises work to strengthen the abdomen and back muscles. This class will help improve posture, balance and stability and help to prevent injuries. If you find yourself sitting too much throughout the day, this will be of great benefit!
Finding Fitness: Foundations of Strength and Conditioning
Facilitator: Logan Baker (Better Every Day Fitness)
Duration: 45 minutes – 1 hour
If you're looking for ONE piece of programming to set aside time for, this may be the one! Whether you are BRAND NEW to fitness or have been incorporating fitness into your life for some time, this highly interactive series will be WILDLY beneficial. This series will help you access fitness in the safest and most effective way. Logan will provide foundational theory and movement in order for you to reach your fitness goals, while underscoring the benefits of exercise, goal setting, and pushing yourself to the next stage.
Panthers At Home: Full Body Workouts!
Facilitator: Logan Baker (Better Every Day Fitness)
Duration: 30-45 minutes
A certified strength and conditioning coach, Logan will assist you in getting active and exercising in the confines of your own home. He'll provide safe methods of performing exercises, proper workout routines, and will provide alternative means of increasing weight by using regular household items. Whether you are new to fitness or looking to add to your workout regime, this programming is for you.
Panther and Cubs: Adult – Child Workouts
Facilitator: Logan Baker (Better Every Day)
Duration: Approx, 30 minutes
A certified strength and conditioning coach, Logan, and his daughter Braxton, will help you to connect with your kids/nieces/nephews/younger siblings in an exciting and healthy new way! We are all looking for fun ways to engage the young people in our lives, and here is an opportunity for you to get active while doing it. These workouts will be patient, fun, and will provide a new and different healthy option for you and your panther cub to partake in! Tip: Play fun music in the background!
Join the Panther Kilometer Club
Our NEW Virtual Outdoor Activity club welcomes all levels to participate in travel activities whether you're studying remotely OR on campus!
The Panther Kilometre Club is a virtual community where students can connect with their fellow outdoor enthusiasts, track their activity, and join in club events from wherever they are in the world!
The Strava app allows you to create your personal account where you can track any outdoor activity such as walking, running, biking, swimming, kayaking, hiking, snowshoeing, skiing and more!
We encourage our local Panthers to track their activity on the trail system behind campus for hiking, cross country skiing, snowshoeing, and mountain biking.
Email Kathleen.Garvey@canadorecollege.ca for more information.
Let's see how far we can travel #togetherapart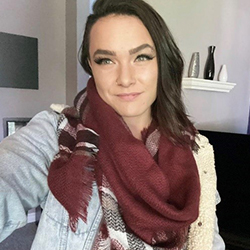 Cassidy Williamson graduated from Laurentian University in 2018 with a BA in Communication Studies. She is currently entering her second year in the Occupational Therapist Assistant/Physiotherapist Assistant program at Canadore College. She is originally from Sudbury, and currently resides in Sturgeon Falls, ON.
Cassidy has played sports throughout her entire childhood, and has always been fairly active. After receiving a sports-related injury in 2014, she decided to take a step back from high impact sports and pursue weightlifting. Cassidy fell in love with working out, eating healthy, and the sport of bodybuilding. She spent 5 years training 5-6x per week and working towards her personal goals of hypertrophy. In 2019, she decided to prepare for her first bodybuilding competition. She spent 6 months eating in a caloric deficit, while training hard week after week. During her preparation, she was working at Goodlife fitness as a personal trainer, and was also helping others towards their fitness goals. She obtained 3rd place in the Sudbury Naturals Bodybuilding show in the figure division; and 2 weeks later, she competed at the Toronto Pro Show. Although she placed 11th, she says "I'm just happy to have been on a stage against so many hard working, dedicated people and to gain some experience in order to be better for my future shows. This is just the beginning for me." She said that competing was the most rewarding, and the most challenging experience she's had in her entire life; and she can't wait to do it all over again. She loves to compete because she wants to see what she is fully capable of as a natural athlete, and she wishes to motivate others and push them out of their comfort zones as well.
When Covid-19 began, she decided to go back to school to become an Occupational Therapist Assistant/Physiotherapist Assistant. She says "Working at Goodlife made me realize how different every individual body is. I wanted to understand different movement patterns and different conditions/impairments so that I am more efficient while trying to help people." She decided to go back to school because she believed that in order for her to be happy in the long run, it was necessary. She says "I was forced to choose anything after high school even though I didn't really know who I was, or what I wanted yet. Well now I do, and I owe it to myself to follow my passion of fitness and helping others."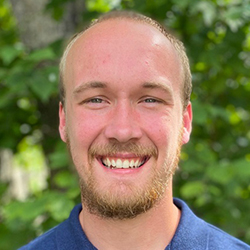 Hello, my name is Logan Baker, I am a Certified Strength and Conditioning Specialist (CSCS) and weightlifting coach. I graduated from Canadore's Strength and Sport Conditioning program in 2016. I continued on to get my Bachelor's degree in Sports Strength and Conditioning from the Limerick Institute of Technology in 2018. The sport of Olympic weightlifting had a profound impact on my life during my formative years, culminating in an opportunity to represent Canada at the 2016 FISU Games in Merida, Mexico. Following this, I wanted to make a career out of helping people realize their potential and self-worth through resistance training and the pursuit of their health and fitness.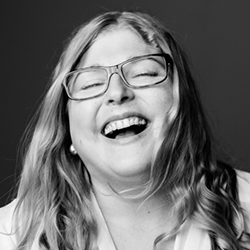 Carly Stong is an Experienced Registered Yoga Teacher as well as the Educational Director and Lead Instructor at Yoga Teacher Training Kingston. Having completed her post-secondary studies in Kinesiology and Health Studies, Carly offers contemporary movement education which is informed both by science and her diverse experience, which is built upon the pillars of accessibility as well as empowerment rooted in social activism. As a passionate advocate for body positivity, her approach to movement is inclusive, and informed by a fully embodied and integrated experience. Her anti-oppressive and trauma-sensitive approach reframes accessibility as the default and not the exception. When she isn't at home in Kingston Ontario with her husband and young family, Carly fosters community and connection online and in person all over the world through her writing, classes, workshops, retreats, and yoga teacher trainings.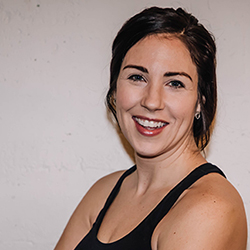 Brenda is the owner of Evolve Fitness, a 24/7 gym in Parry Sound which also offers a wide variety of group fitness classes. Brenda has been working in the industry as a personal trainer since 2010. She has been working at Evolve in Parry Sound since 2011, when it was originally named "Tina's Fitness Studio" until she purchased it in October of 2019.
Brenda has a passion for fitness and teaching classes, and her enthusiasm is infectious. She believes in making health a priority and wants to help make fitness accessible to the community. She feels movement is a key principle not only to physical health but mental health as well. And she believes there is no better feeling in the world than a good hard sweat!