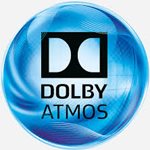 Dolby Atmos® Mix Theatre
Dolby Atmos® is an award-winning technology that breathes life into storytelling by allowing the creative freedom to easily place and move sounds anywhere in the cinema, including overhead, to make audiences feel as if they are inside the movie. The immersive experience utilizes up to 64 channels. It is designed to enhance the conventional 7.1 format by adding an additional stereo overhead array and up to 118 'sound objects,' which can be moved through the theatre in all three dimensions. Dolby Atmos® Cinema processors take into account the exact specification and dimensions of any playback auditorium so that the effect is the same in each theatre.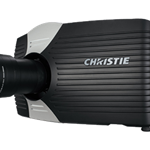 Christie True 4K Digital Cinema Projector
For the richest cinematic experiences, Christie digital cinema solutions offers DCI 4K from source to screen. That means the most brilliant, high resolution visuals and most accurate colour reproduction.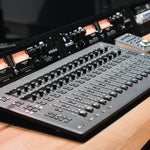 Avid Pro Tools Console
The Avid Pro Tools | S3 console offers maximum power, efficient controls and an ergonomic set-up and delivers intelligent control allowing users to gain better control over a mix whether it's making music or sweetening soundtracks and uses 32 touch-sensitive, push button-style rotary encoders. It also features a built-in 4-input, 6-output AVB Core Audio interface to connect your studio. The console can record vocals and instrument performances through two high-quality XLR mic/line inputs and two TRS line inputs and connect tostudio speakers, headphones, and other gear to four line outputs and one stereo headphone output.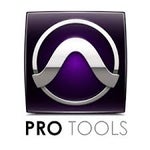 Pro Tools Software
Pro Tools is a digital audio workstation developed and released by Avid Technology for the Microsoft Windows and OS X operating systems, which can be used for a wide range of sound recording and sound production purposes.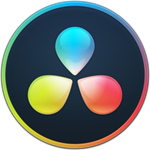 DaVinci Resolve 14
Originally designed for Hollywood's elite colorists, and the world's fastest growing and most advanced editing software, DaVinci Resolve has been used on more feature films and TV shows than anything else because it lets users create images that are simply impossible with other tools.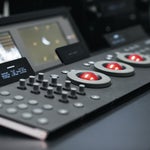 Tangent Element TK, MF, KB & BT Panels
The Tangent editing panel is an intuitive control surface for DaVinci Resolve. The compact unit features custom tracker balls that use non-contacting optical pickups and easy-to-read cool-blue OLED displays. Numerous control interfaces include control knobs, label buttons, function buttons, master dials, and transport controls.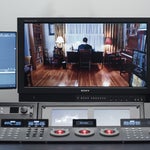 Sony BVM-X300 4K OLED Master Monitor
Sony's flagship model in their professional monitor line-up. Ideal for colour grading and quality control. This high performance TRIMASTER EL™ OLED monitor includes unparalleled black performance, colour reproduction, quick pixel response, and industry-leading wide viewing angles. The BVM-X300 has enhanced interface and features for High Dynamic Range (HDR) live production. A wide colour gamut conforming to DCI-P3 and most of the ITU-R BT.2020 standard.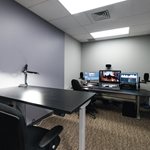 Resolve Colour Grade Computer
A specially-configured computer designed to handle 4K workflows. The image from the computer can be played on the Sony BVM-X300 4K OLED Master Monitor or patched directly into the Christie True 4K Digital Cinema Projector.
Specialized Equipment
Christie Vive Audio Speakers and Amplifiers
Black Magic 12G 40x40 Routing Switcher

Dolby Atmos®

CP850 Digital Cinema Processor

Neumann U 87 Ai Large-Diaphragm Condenser Microphone
Schoeps MK 4 Capsule/Schoeps CMC 6 U Microphone Amplifier
Sanken COS-11D Omni Lavalier Microphone
PreSonus HP60-6 channel Headphone Amplifier, Avid SYNC HD
BSS Soundweb London BLU-100 Digital Signal Processors and Graphic Equalizers with 4-AES in and 8-analog out
Active Nearfeild Monitors
Neumann KH 120 Powered Studio Monitor
EdiCue Application
Furman M-8S Power Sequencer
BSS BLU-806 Digital Signal Processors and Graphic Equalizers, BSS BLU-326 Expander
Blackmagic SmartView 4K
Black Magic SmartView Duo 4K Scope
Protools Dock