So you want to attend Canadore?
Here's what you need to know!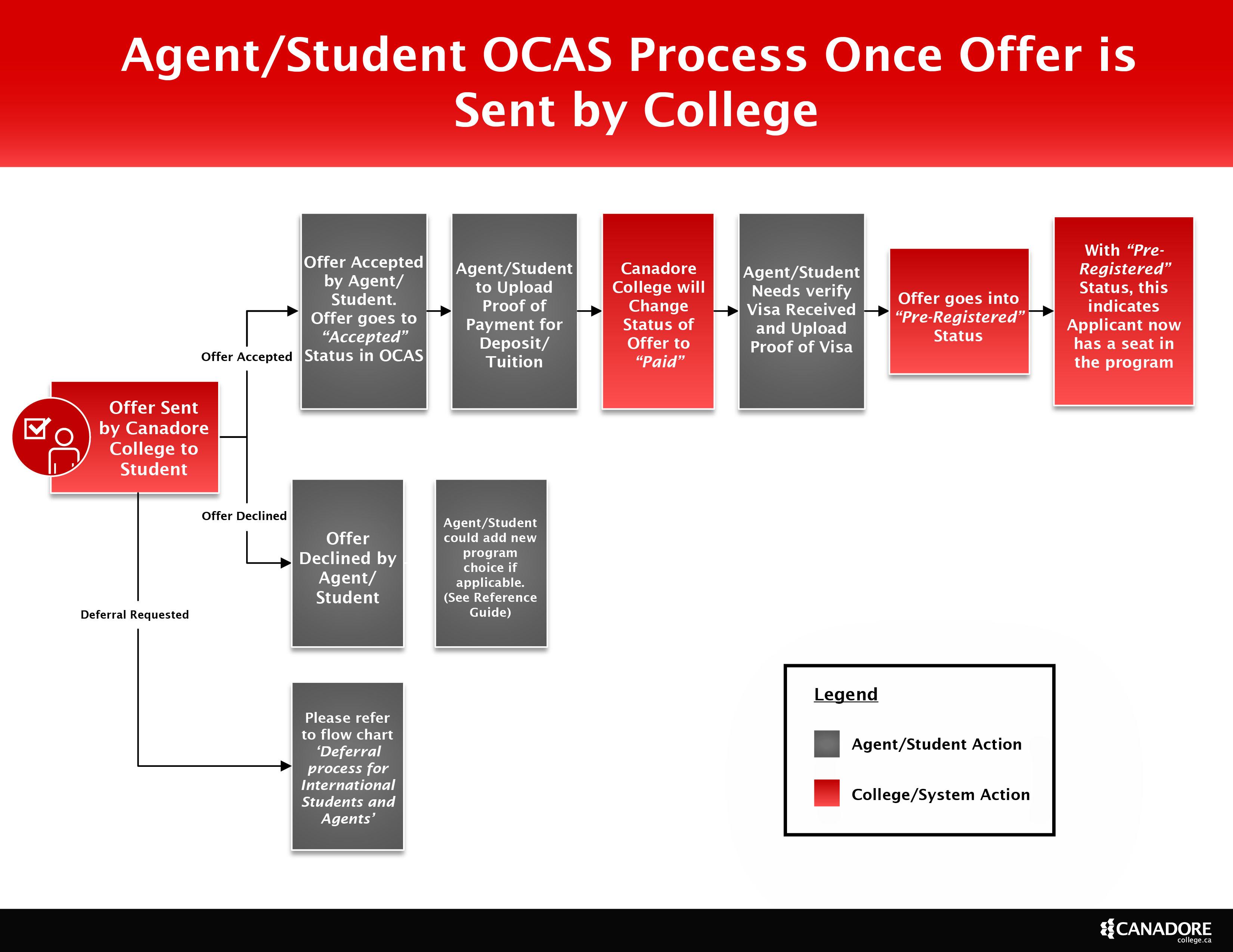 Click here to view the Current Open Program Intakes.
https://international.ontariocolleges.ca/explore-programs/CANA
Step One
Take a look at our programs on the website or download a copy of our program guide to determine what program(s) are of interest to you. In general, Canadore requires a senior level of education from your country. View our Full Time program listing
Step Two
Many programs have specific admission requirements, such as math or physics. These requirements are found under admission requirements in the program descriptions. To be considered for acceptance by the college, you must send a translated copy of your transcript with your application, demonstrating that you meet the program specific admission requirements.
Step Three
If English is not your first language you must provide proof of English competency that meet the language competency level for your desired program of study. View current English Language Proficiency Requirements. Notwithstanding the above, the English proficiency standards required to obtain Study Permits and Temporary Resident Visas from Canadian Embassies vary around the world. The higher English language proficiency standard will apply.
The Student Direct Stream (SDS) is an expedited study permit processing program for those who are applying to study in Canada at a post-secondary designated learning institution (DLI). The language requirement is more stringent than listed above, as such an International English Language Testing System (IELTS) score of 6.0 or higher in each language skill: listening, reading, writing and speaking is required.
For more information on the Student Direct Stream (SDS) program please see:
https://www.canada.ca/en/immigration-refugees-citizenship/corporate/publications-manuals/operational-bulletins-manuals/temporary-residents/study-permits/direct-stream.html#toc02
Step Four
Please submit your application using our international application portal by following this link: Apply Now International Portal! Please note that there is a $100 application fee to submit your application for review by the College.
Step Five
If you meet the admission requirements and are offered admission into the program you have chosen, Canadore College will send you a letter of acceptance and an International Student Acceptance Information form in the format recognized by Canadian Immigration. This letter is required by the Canadian Embassy, High Commission or Consulate in your country when you apply for a study permit to study in Canada. If there is a work, field or clinical requirement for your program we will issue an additional letter, which must be submitted to obtain the associate work permit.
Step Six
Upon receipt of your payment, the College will reserve a seat in your chosen program. This payment is part of the total tuition cost and includes a non-refundable deposit. The receipt for this payment will be required by the Citizenship and Immigration Canada.
If you do not comply with the terms of your payment schedule, your offer will be considered inactive and your seat will be offered to the next individual on the waitlist.
If you want to study in Canada, you must meet some important immigration requirements. You may require both a Study Permit and a Temporary Visitor Visa (TRV). Study Permit is issued by an Immigration Officer. It allows you to come to or remain in Canada to take:


An English as a Second Language Program of more than three months;
An academic, professional or vocational training program at an approved college, university or other institution.

Study Permits and Temporary Visitor Visas are not issued from within Canada. You must apply to Citizenship and Immigration Canada (CIC) which is located in your nearest Canadian Embassy, High Commission or Consulate. Citizenship and Immigration Canada is a Canadian government department and operates independently with no connections to any Canadian educational institution. Official information on requirements for a student authorization may be obtained from a CIC office in Canada, a Canadian Embassy, High Commission or Consulate, and/or on their website at http://www.cic.gc.ca/english/index-can.asp.

In order to qualify for a Study Permit, you must first receive a letter of acceptance and an International Student Acceptance Information form from the College. After you have been accepted for a course of study, you must present this letter and form to the nearest Canadian Embassy, High Commission or Consulate to complete your application for a Study Permit and a Temporary Visitor Visa. An officer there will tell you how to proceed and the documents required, such as:


Acceptance letter and acceptance information form from Canadore College
Receipt from the college for your confirming deposit
Evidence of your good character and, if applicable, a letter from your sponsor
Evidence of adequate funds to live and study in Canada for the duration of your program, including return transportation
Certificate of medical clearance
Your valid passport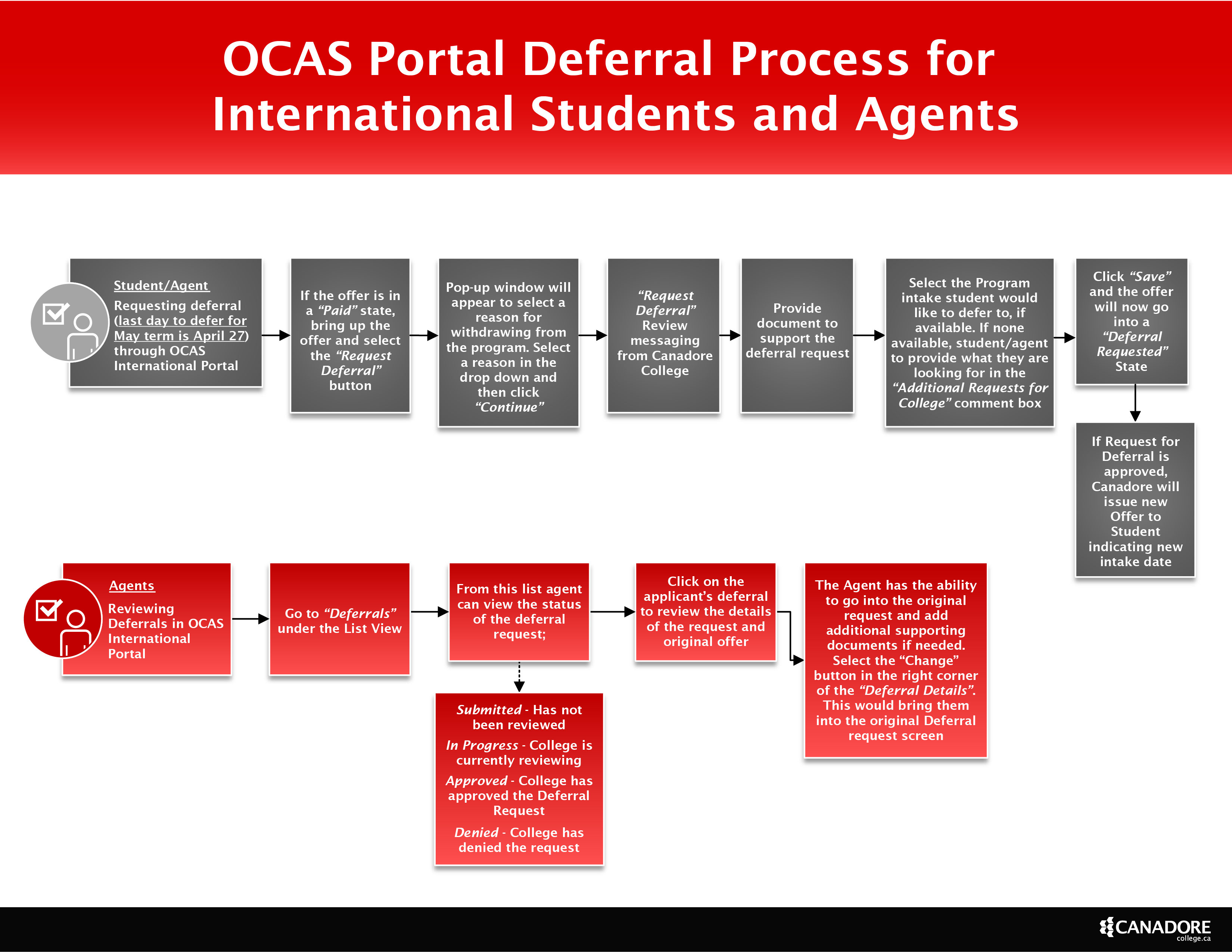 Flywire for International Students
Canadore College has partnered with Flywire to offer international students and their families an easy and affordable way to pay for their tuition and fees.
Flywire is a secure method of payment that allows you to track your payment from start to finish. Through this service you can pay your tuition and fees from any country and any bank– often in your home country currency, which allows you to save on bank fees. To use this service you will be asked to create an account on the Flywire website with your basic personal information.
Students who have paid by FLYWIRE will have their refund returned by FLYWIRE. There is a $35.00 admin fee for this.
How to make a payment

Step 1: Go to Canadore's payment portal (canadorecollege.flywire.com) to enter the amount you owe and the country you will be paying from.
Step 2: Select your payment option and payment type.
Step 3: Create a Flywire account or log in to your existing account. Enter basic information to initiate your payment booking.
Step 4: Review and confirm your payment.
Step 5: Follow your payment instructions to send funds to Flywire.

Note: Payment instructions are only valid for one payment. If you wish to make another payment to Canadore, please initiate a new booking.

Step 6: Track your payment by logging into your Flywire account at any time. Receive text and email status updated each step of the way, including a confirmation when your payment has been delivered to Canadore College.
Important links
How to send a payment from India: https://www.flywire.com/support/india/
Best Price Guarantee: https://www.flywire.com/best-price-guarantee/
---
Need help? Contact Flywire's multilingual customer support!
Toll-Free: 1-800-346-9252 | Email: support@flywire.com
Web: https://www.flywire.com/help
---
Please Note:
Wires are not an approved payment method. A $50 administrative fee and any additional bank fees will be charged to the student's account and deducted from all incoming wire payments, which may result in additional payments being required on the student's account.
Refunds for Students Paying International Fees to Full-time Programs of Instruction
International Students who submit formal written notification of withdrawal from a full-time program of instruction are entitled to a refund of tuition and ancillary fees in accordance with the following:
Before the 10th day of the current term of study
For Student Visa refusal with proof from Embassy or High Commission, a $300 administrative fee will be applied and the balance of the tuition will be refunded provided that the student can demonstrate that they completed all required steps to obtain their study permit.
Students studying on Approval in Principle (AIP) are permitted to continue to study in subsequent terms. However, students must be aware of the risks relative to this policy. For example, if you are studying on AIP and your Student Visa application is refused, you will be subject to the policy outlined in this letter. Also, if you register for second semester and you receive a Visa refusal prior to the 10th day of the term, you will be eligible for a refund as outlined in paragraph (a) above. If you withdraw and cannot provide evidence of refusal, you will be issued a refund in accordance with the terms in paragraph (c) below. If you withdraw after the 10th day of the term of study, no refund for the term will be issued. However, any fees paid in advance for subsequent terms will be refunded.
For students withdrawing before the 10th day of the current term of study or Student Visa refusal with no proof, refunds will be based on the following formula:
Refund = fees paid – ((International Student Tuition Fee ÷ Tuition Fee for Canadian Students) x $500)
International students who do not attend, decide to defer their admission after the start date noted on their Letter of Admission (LOA), or withdraw within 10 business days of the beginning of the semester, shall receive a portion of the full tuition and ancillary fees paid for the semester or program period, calculated according to the following equation:
Refund = fees paid – ((International Student Tuition Fee ÷ Tuition Fee for Canadian Students) x $500)
Please note: There will be no refunds after the semester deadline to withdraw
If you withdraw after the 10th day of the current term of study, only subsequent semester fees paid in advance will be reimbursed.
After the 10th day of the current term of study, International Students shall receive a refund of any tuition and ancillary fees paid in advance for subsequent semesters.
This refund policy also applies to students who are attending alternate delivery models.
Please review the important dates and deadlines for Withdrawal and Registration. Payment deadlines for International students are noted on the Letter of Admission.
Complete details are available at https://www.canadorecollege.ca/support/dates-deadlines