Canadore's First Peoples' Centre
Each year, Canadore College welcomes approximately 700 Indigenous learners to our three campuses in the City of North Bay, located on the traditional territory of Nipissing First Nation and on lands protected by the Robinson-Huron Treaty of 1850. Our satellite campus is in Parry Sound, located on the traditional territory of Wasauksing.
Last year over half of those learners attended programs offered on campus, whereas others went to Indigenous partner campuses or learned and earned credentials in their home communities. Many more chose a part-time learning path.
Nearly 20 percent of Canadore's total on-campus student population celebrates Indigenous heritage from diverse nations.
The First Peoples' Centre offers comprehensive cultural and academic support for Indigenous learners attending Canadore and reaches out to many more through recruitment, promotion, and community outreach projects.
Indigenous Student Experience
At Canadore many Nations are represented, including Ojibway, OjiCree, Cree, Algonquin, Metis, Mohawk and Inuit. We welcome approximately 1,000 Indigenous students annually from across the country.
Kikandaaswiwin Mookiisin Indigenous STEAM Program
Developed in partnership with Actua, KM empowers young people to see their future educational and career success in high-skill STEAM fields—while giving them renewed confidence in their Indigenous identity and unique place in the world.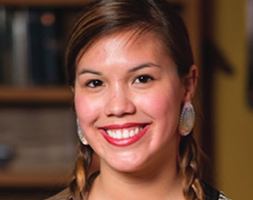 Sasha Ekomiak was raised in Elliot Lake with roots in both Chasasibi and Gaspé, Québec. Sasha is a proud graduate of Canadore's Indigenous Preparatory Studies Program and pursued further studies with Nipissing University.
"Canadore College is such an amazing place to be and to learn. There is so much nature around, there are so many opportunities to learn and so much support."
Canadore First Peoples' Centre In The News