See your future in STEAM. Find your roots in the land.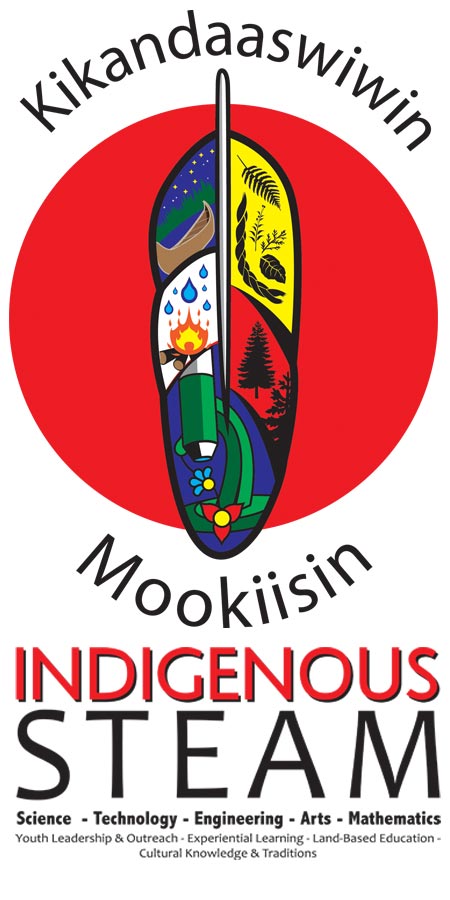 Welcome to the Kikandaaswiwin Mookiisin (KM) Indigenous STEAM Program.
Understanding that Indigenous Peoples have been practicing STEAM (Science, Technology, Engineering, Arts and Mathematics) for thousands of years, the KM STEAM Program honours and celebrates the land and its teachings.
Developed in partnership with Actua, a national network of 40 university and college members including Canadore College, KM empowers young people to see their future educational and career success in high-skill STEAM fields—while giving them renewed confidence in their Indigenous identity and unique place in the world.
What is Kikandaaswiwin Mookiisin?
The Kikandaaswiwin Mookiisin Indigenous STEAM Program is an educational and career initiative of the School of Indigenous Studies and the First People's Centre at Canadore College in North Bay, Ontario, developed with its national partner, Actua. Kikandaaswiwin Mookiisin means "knowledge springing forth."
What is STEAM?
We live in a quickly changing world where competency in the integrated STEAM disciplines—Science, Technology, Engineering, Arts and Maths—will be vital for students to succeed in almost any career they choose. It's not just the subject matter that's important in STEAM, but its problem-solving approach that focuses on hands-on (experiential) learning, rooted in the land, and responding to real world challenges and opportunities.
Free virtual training for STEAM Land Camp instructors
Interested in training to become a Land Camp instructor?
We offer a free 32-hour online training to help open the door to instructor opportunities.
Wondering about Land Camp this summer?
Due to ongoing health and safety concerns related to COVID-19, by provincial order we cannot offer our 11-day overnight land-camp this year.
But stay tuned! We are working with our partners on a new land camp experience for this summer.
Indigenous education—including STEAM—receives national recognition at Canadore
Canadore College has been selected as the Gold Recipient of the CICan Indigenous Education Excellence Award. The College has developed several ongoing initiatives rooted in Indigenous cultural practices and values, created in Canadore's First Peoples' Centre, which is home to the Kikandaaswiwin Mookiisin STEAM program.
Connect with us
Are you a student who wants to learn more about STEAM careers? Or a business or community organization that would like to hold an event or partner with us? We have outreach programs to meet student, educator, business and community needs.
We would love to hear from you!
For more information on the Kikandaaswiwin Mookiisin (KM) Indigenous STEAM Program, please call or email:
Tammy Dokis
Indigenous STEAM Coordinator,
First Peoples' Centre, Canadore College
705-474-7600 ext. 5263
tammy.cayerdokis@canadorecollege.ca