All Stories
Canadore College Professor Receives National Accolade
May 1, 2017 | Canadore College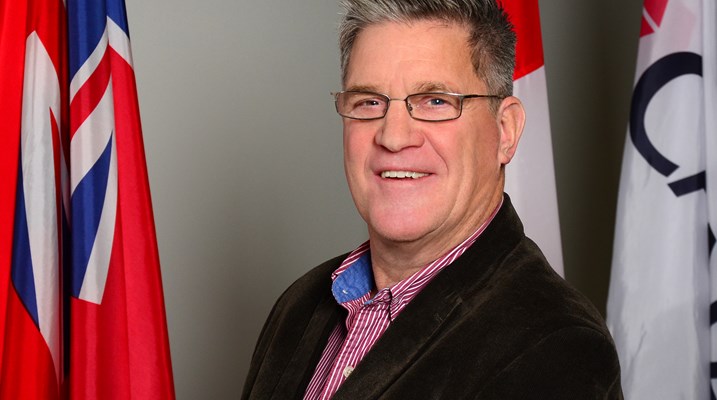 (OTTAWA, ONT.) – Colleges and Institutes Canada (CICan) awarded a Canadore College professor with a national award this afternoon.
Dave de Jourdan, faculty member at Canadore College for over 37 years, received a Faculty Leadership Award of Excellence for his remarkable accomplishments, achieved throughout his career.
While at the College, de Jourdan has been a driving force in the expansion of the School of Sport and Recreation, leading a great deal of evolutionary change over the years.
"Dave is highly respected within our community and industry, amongst his peers and by his students," said George Burton, president and CEO at Canadore College. "Not only does he live and breathe lifelong learning personally, he also instills a similar level of commitment in his students by providing superior learning opportunities."
Dean of the School of Business, David Himmelman, credits de Jourdan's passion for student success with the overwhelming success of the College's online recreation program offerings. These programs have grown from 50 students in 1980 to more than 250 full-time and 120 part-time students in 2017. Himmelman further acknowledges that the School's inaugural seven-week cultural exchange in 2014 to Guizhou, China with 10 students set the benchmark for future expeditions.
Well-loved by his students, he has been described as "the best guy"; "one of the best teachers I've ever had"; "committed to the profession"; and "very caring toward his students."
Professor de Jourdan has also been a strong supporter of Canadore College's scholarship and bursary programs, namely the President's Club, which he supports because he is "aware of the urgent need to offer financial support to deserving students to ensure that no one is denied access to higher education."
"On a personal note, I'd like to thank Dave for sharing his wisdom and leadership with me, all of those years ago, when he was my professor," said Burton. "His lessons have stayed with me throughout my own career and ignited my own learning spirit as well."
A series of leadership awards to recognize the contributions of individuals to their college/institute communities and to highlight the role of our institutions in social, cultural and economic development were presented at the CICan 2017 Conference in Ottawa today.
Canadore trains people through applied learning, leadership and innovation. It provides access to over 75 full-time quality programs and has outstanding faculty and student services. The College and its students add nearly $290 million to the regions of Nipissing and Parry Sound. Approximately 1,000 students graduate from Canadore each year, and they join 43,000 alumni working across the globe.
For more information, please contact: Jessica Charette at 705.475.2538 or jessica.charette@canadorecollege.ca; Carrie Richmond at 705.474.7600, ext. 5216 or carrie.richmond@canadorecollege.ca
---
---