Canadore College's on-campus dental hygiene clinic is run by Dental Hygiene faculty, staff and students and offers a variety of services to patients:
Free dental cleaning for everyone above the age of three
Referrals to medical doctors and dentists
Smoking cessation
Oral cancer screening
Mouth guards
Full oral examination (hard & soft tissue/teeth & gums)
Nutritional counselling
Radiographs and duplication of radiographs
Professional teeth whitening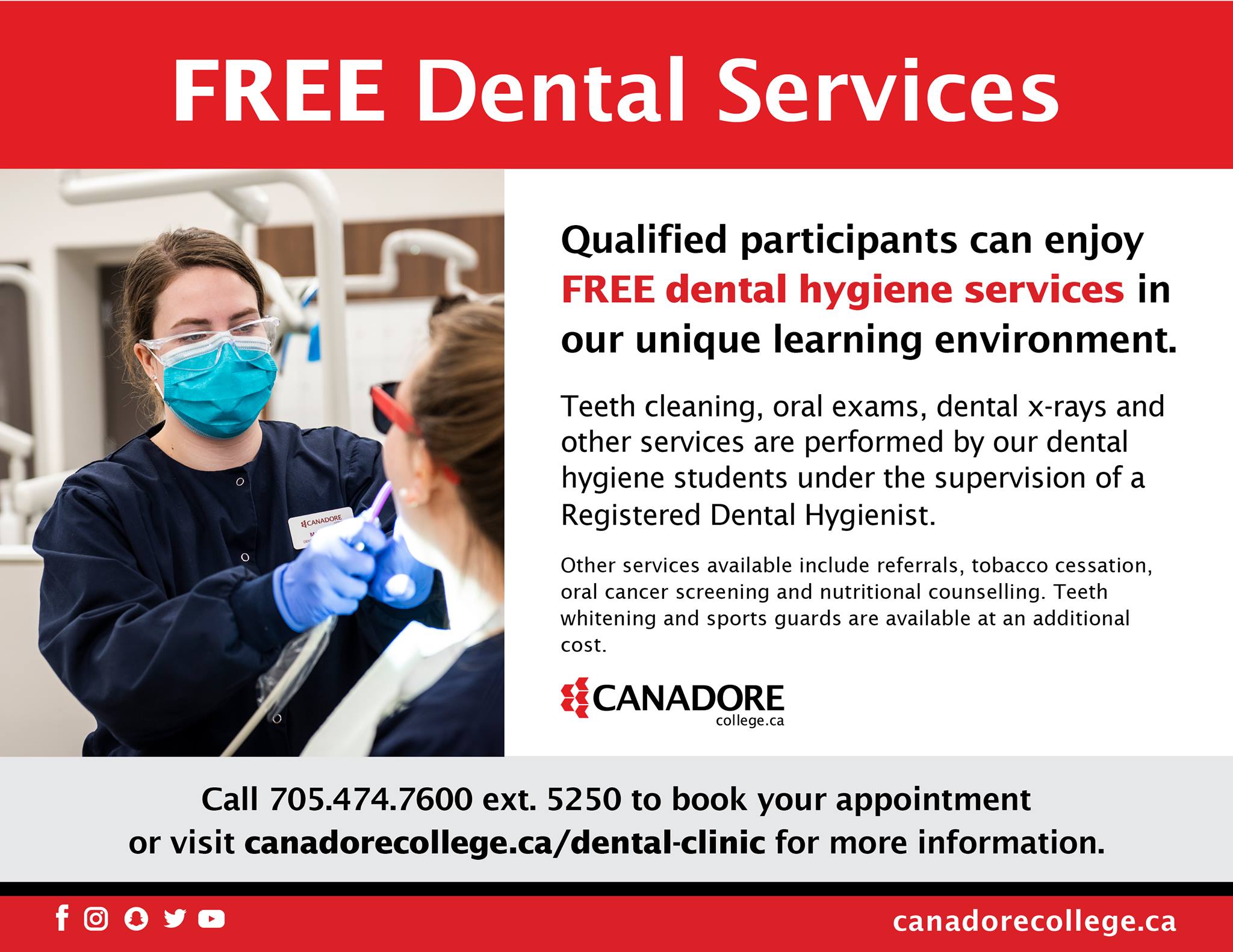 Who will perform the treatment?
You will be treated by Dental Hygiene students who are enrolled in year 2 and 3 of the program under the direct supervision of a Registered Dental Hygienist.
When are the appointments?
The clinic hours are from 9:00 am – 12:00 pm, 1:00 pm – 4:30 pm and 5:00 pm – 8:00 pm.
Exclusions include, but are not limited to, public holidays, examination periods for students, staff development days, weather related closures and vacation.
Where are the appointments?
The Dental clinic is located at Canadore College's College Drive Campus on the third floor of the "V" wing. Elevator access is available if needed.
How long are appointments?
Appointments are typically 2 ½ - 3 hours in length. Multiple appointments are required for full completion of dental treatment - between 3-5 sessions.
What costs are associated?
The majority of the services offered are free with the exception of duplication of radiographs, sports guards and teeth whitening. The only cost to you is parking, and your time.

Sports guards and professional teeth whitening services will be available until the end of March and will resume in September each year.
Duplication of radiographs are available from September until the beginning of June.
What are my responsibilities as a client?
Please be on time
24 hours' notice is required if you cannot keep an appointment, please email or call the dental clinic ASAP. This will allow our students to contact other clients.
Cancelling on short notice or missing more than three appointments may result in your discontinuation from the clinic.
Ensure that you have enough time to keep appointments before agreeing to become a client. Commitment is absolutely necessary to promote students success.
What is the screening appointment?
Your first contact will likely be a "Pre-Screening" appointment over the telephone. This includes a short questionnaire that a Dental Technician will complete with you. This short questionnaire allows the technician to better distribute your information to a 2nd or 3rd year Dental Hygiene student based.
The Dental Technician will add your name to a waiting list. A student will personally contact you to book dental appointments with you, according to their clinical schedule.
How soon will I receive a dental cleaning?
The length of time between the pre-screening and the start of your treatment varies based on the needs of our Dental Hygiene students and the timing within the academic year.
If you are in a hurry to have a dental cleaning or have specific deadlines in mind, you should consider going to a private dentist/hygienist whose office schedule will be much more flexible than our students' schedules.
What happens when my treatment is done?
After your treatment is complete, you will be asked if you'd like to remain on our client recall list.
If I am experiencing an emergency what do I do?
Please contact the Dental Emergency Services in North Bay and Area at 705.476.5444
I live outside of North Bay and/or I am a student from out of town, can I still be a client.
As long as you can attend appointments scheduled by your assigned Dental Hygiene student and are willing to travel, you are more than welcome to join our clinic.
Where do I park on campus?
Designated clinic parking is available within the Village lot with no charge overflow in lot 7. Clients must bring license plate information to the clinic upon arrival.
How to get to the clinic with North Bay Transit?
There are multiple city transit buses that arrive at the front doors of Canadore College's College Drive Campus.

See more from the City of North Bay Transit Services