All Stories
OCAA Women's Volleyball Championship - Canadore vs. Humber
Feb 28, 2020 | Mike Haines, Coordinator of Access and Inclusion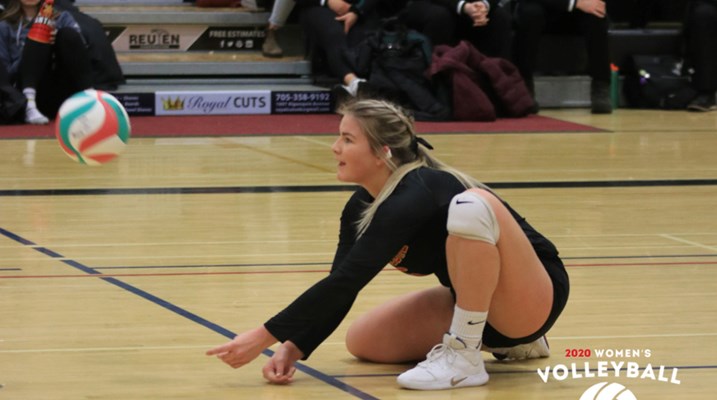 GAME 3 : Canadore vs Humber
A packed house. The hometown faithful came out in full force for this one! Side and end bleachers were full with folks out to support their community's Canadore Panthers.
A side-out, high-energy start to the match set the tone for this one. Exchanging blows, The Hawks and hometown Panthers went back and forth. Humber went on a late run and took it 25-19 in a wildly entertaining display of athleticism.
The 2nd set brought us more amazing volleyball action! Blocks and hits by Kristine Ledger had the home crowd energized as her team rallied around her. Humber's Shiann Williams responded with an offensive outburst herself as she tried to quiet the bleacher – but there was no quieting the North Bay facility on a snowy Thursday evening. Huge kills by veteran Jess Venhuizen, second year player Tianna Head, and rookie Sarah Grassie took the atmosphere to another level. Both teams were thriving in this environment, but Humber continued to edge Canadore on a few back-to-back points leads to a timeout called by Canadore at 7-10. Canadore converts the next point, and Humber matches – the side-out style match continues. Humber's Alex Bartmann ran a highly effective offence and created many opportunities for her hitters to score. Capitalizing on the home team's errors while playing flawless volleyball themselves late in the set, Humber took the second set 25-19.
Between sets, the announcer directs attention to a very special guest in the audience- 2-time OCAA Hall-of-Fame inductee (Athlete, and then Builder category) and longtime Athletic Director at Canadore, Linda Turcotte! Her acknowledgement was met with a round of applause in the crowded Education Centre Gymnasium!
To the third we go - Humber starts the set with an ace courtesy of Bartmann who adds to her stat line. Venhuizen responds with a powerful kill down the line. Blow-for-blow, the two powerful teams exchange points. After a Canadore time-out and some more back and forth action, Shiann Williams and Alex Krstonosic connect several times with Bartmann for kills – true forces in the middle for the Hawks. At 19-11, Canadore call a time-out. All-star setter Ashlyn Kadlecik connects with her go-to-source-for-points Kristine Ledger for a late match rally and they cut into the Hawk's lead. In the end, the dynamic defensive performance of their back-court and the scoring efficiency of their middles was the difference in this one as Humber takes the set (25-17) and the match (3-0).
Players of the Game:
Canadore: Kristine Ledger (9 Kills, 1 Ace, 5 Blocks)
Humber: Shiann Williams (10 Kills, 2 Aces, 2 Blocks)
#Athletics, Rec, Wellness #Sport and Rec #Sport and Wellness
---
---