All Stories
Preparing Aboriginal Women for Employment in Skilled Trades
Jun 6, 2016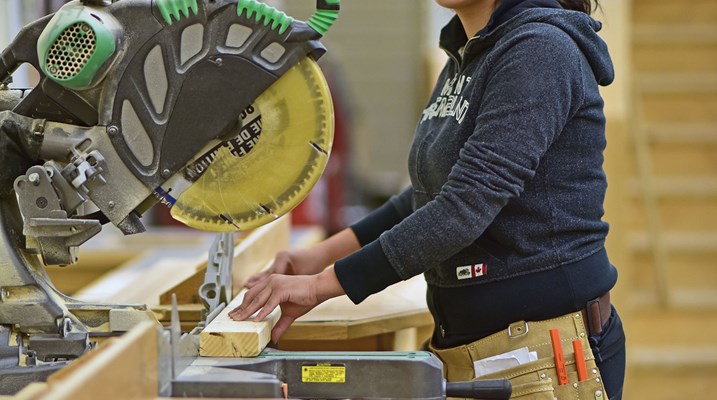 (NORTH BAY, ONT.) -- Canadore College officially launched its unique Aboriginal Women in the Trades program today.
The in-person 12-week certificate program will be delivered at Canadore's Commerce Court Campus and will explore four key trade areas: building construction, electrical, plumbing and carpentry.
"Our First Nations people are improving the economic and social environment of their communities through education," said Judy Manitowabi, Manager of the First Peoples' Centre Community Based and Contract Training at Canadore College. "Increasing the capacity for skilled labour in our communities lays a positive foundation for healthy growth and sustainable practices."
The culturally-based program incorporates a holistic approach to employability skills development, self-development, academic knowledge and safety certifications with practical hands-on training in the trades sector.
Funded by the Ontario Poverty Reduction Fund and delivered in partnership with a steering committee of community members, participants can enroll at no cost. Training costs, books, personal protective equipment, bus passes and health and safety considerations are all covered through grant money.
"This is intended to be an introduction to help women find the path best suited to them," said Manitowabi. "Upon completion, they will have basic skills to rely upon, but they will also be qualified to further their education in the skilled trades at the postsecondary or apprenticeship level."
Sixteen women are enrolled in the program, which began today and run through August. Each participant will receive culturally-relevant individual support, referral and ongoing guidance in pursuit of additional applied and educational pathway options.


Canadore trains people through applied learning, leadership and innovation. It provides access to over 65 full-time quality programs and has outstanding faculty and student services. The College and its students add nearly $290 million to the regions of Nipissing and Parry Sound. Approximately 1,000 students graduate from Canadore each year, and they join 43,000 alumni working across the globe.
#Aboriginal #First Peoples' Centre #Indigenous Studies #Trades and Tech
---
---