Shawn Chorney, Vice President Enrolment Management, Indigenous and Student Services
Shawn Chorney is currently serving his 12th year as Vice President at Canadore College in North Bay, Ontario.
Innovative, disruptive and skilled at executing above established targets are terms that have been used by both internal and external college stakeholders when describing Chorney's tenure as Vice President. Over that last 12 years, Chorney has collaborated with and led a team of dedicated and talented staff to establish Canadore as a college of choice that supports its learners as unique stakeholders of their college. This work has included the adoption of same-day mental health triage support services, progressive approaches to embracing and living reconciliation through Indigenous Education, the adoption of aggressive strategic enrolment management frameworks and retention strategies and the creation of class-leading programs, services and student engagement initiatives. Under Chorney's leadership, the college has secured more than $20M to develop and foster social innovation through programs like the I Can Lead, the student leadership program developed by Canadore, to reduce poverty in the region through the Nipissing Poverty Reduction Through Education Program and in fostering social innovation that creates healthy, sustainable communities as recently demonstrated through food-security projects and national senior's inclusion initiatives. Chorney' work also extends nationally and internationally through numerous strategic alliances and partnerships that he had established or grown.
Prior to his time at Canadore, Chorney led campus expansion and renewal efforts at Northern College as both Associate Regional Director, South Region and as Manager of the College Foundation. It is through these roles that Chorney honed his expertise in academic program delivery, accreditation processes and applied research. Chorney previously held positions at the United Way as Executive Director and also in the private sector as a successful and results driven entrepreneur in his families group of companies. Chorney's unique style is a culmination of these progressive experiences in the private, non-profit and public sectors.
Chorney is a lifelong learner and believes both in formal and lived training and experiences to create a holistic world view. Part of his approach to this constant self-improvement is volunteering and Chorney has served the communities in which he lives as: Director, Kiwanis Club of Timmins; Board of Governors; Northern College, Grant Review Team Member, Ontario Trillium Foundation; President, Nipissing-Parry Sound Business Centre; Co-Chair, North Bay Downtown Inc. Revitalization Team; Director, Ontario Application Service; Chair, Coordinating Committee of Vice Presidents for Ontario; Policy Member, KPI Operating Committee; Co-Chair, Rotary Ribfest Timmins; and as a proud volunteer dad through the activities that his four children partake in. Chorney is also a 2009 recipient of the Ontera Youth Leadership Award, 2015 alumnus of the Governor Generals Canadian Leadership Conference and 2017 recipient of the Colleges and Institutes Canada Award for leadership.
Chorney holds numerous training designations in Mental Health Disciplines, Cross-cultural Competency, Human Resources and Strategic Organizational Planning. Chorney also holds a Bachelor's Degree from Laurentian University in Sudbury, Ontario and a Master of Business Degree from the University of Phoenix in Arizona.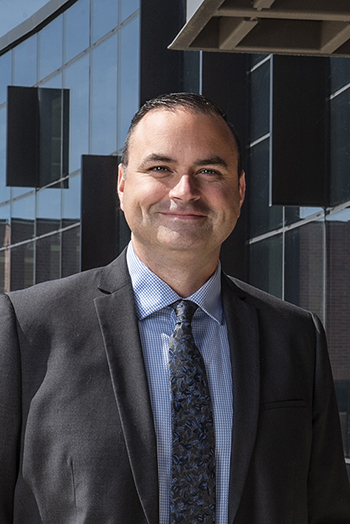 Shawn Chorney
Vice President Enrolment Management, Indigenous and Student Services

Office of the President
Shawn.Chorney@canadorecollege.ca
705-474-7600 ext. 5349