All Stories
"We had this crazy idea we'd host a Pow Wow"
Feb 5, 2020 | Cindy Males, Public Relations and Communications Specialist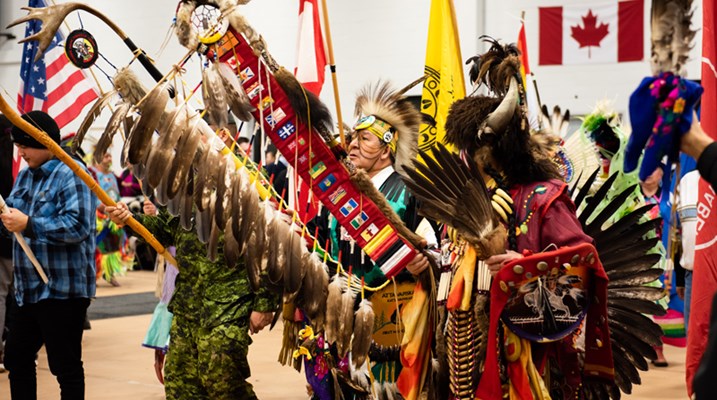 Saturday February 1, 2020 was a day of celebration, as Canadore marked the 30th anniversary of the first Pow Wow ever held at the college.
"I was part of a group of students," says Kevin Wassegijig, who returned this year as one of the honorary head dancers. "I was in my first year here. A group of us kind of got together and wanted to have a celebration. So we had this crazy idea we'd host a Pow Wow."
That was in 1990. Three decades later Wassegijig is happy the tradition is still going strong.
"It's awesome. Back then you had no idea, never thought this far ahead. All that we were trying to do was get through that year, and then the next year try to do it again."
This year's Pow Wow honoured everyone who has been a part of the gathering from the beginning, including dancers, drummers, builders and veterans. Traditional artists were on hand and a traditional feast was held.
Elder Peter Beaucage, a former Canadore faculty member, has been a part of the Pow Wow almost from the beginning.
"It's been quite a journey," says Beaucage. "And the progress of the gathering was really beneficial to the students. It was recognized by the college that Indigenous students needed some spiritual gathering to help them in their studies. It gives Indigenous people the opportunity to practice their culture and to practice their identity."
Margaret Jamieson-Hopkins, a first year Canadore student in the Indigenous Pre-Health Sciences program, helped to organize the 2020 Pow Wow.
"It's so nice just to get the community, and bring all of the First Nations together," she says. "It's always nice to have people come out and get to share our culture with everyone."
Kevin Wassegijig, an alumnus of the recreation leadership program and Premier's Award nominee for 2012, says the cultural significance of the Pow Wow is as important today as it was 30 years ago.
"It's still the same as when I was here. The students come from across Ontario, northern Ontario and it's one of those things that makes it feel a little bit closer to home. It does make a difference on how a student feels about being at Canadore."
#Aboriginal #College Drive #Events #First Peoples' Centre #Indigenous Studies
---
---