All Stories
2017 Royal Canadian Air Cadets Graduate from Advanced Aviation Courses
Aug 18, 2017 | Canadore College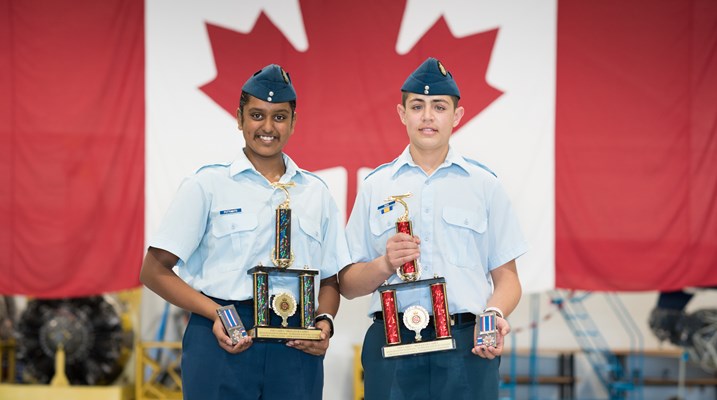 (NORTH BAY, ONT.) – One hundred and twenty Royal Canadian Air Cadets from across Canada celebrated graduation at Canadore College this morning.

The Cadets received a certificate of achievement from the Canadian Forces after completing 142 hours of instruction in the Advanced Aviation Technology - Aircraft Maintenance and Airport Operations programs at Canadore.

Comprehensive training included courses in airport safety, air traffic control, ground services, and meteorology to name a few, and was delivered six days a week for eight hours each day.
The Cadets, aged 12 to 18, began their training in early July. More than 700 applications were received from squadrons across Canada each year for this prestigious training. Candidates compete for the coveted spots based on academic merit, essays, community service and interviews.
The ceremony was held at Canadore College's Aviation Technology Campus earlier today. Guest speakers included Don Berrill, president of the Air Cadet League of Canada and major Melissa Wordragen CD, officer commanding Advanced Aviation Technology Courses (AATC).

Two deserving Cadets were awarded the Army Navy and Air Force Veterans in Canada Cadet Medal of Merit (ANAVETS). Cadet Navyatha Pottumutu from Victoria, B.C. and Cadet Mahdi Rida from Laval, Que. were chosen for demonstrating overall achievement in their courses, strong leadership qualities, above average dress, a high level of motivation and consistent cooperation with others.
Picture - Left to right: Cadet Navyatha Pottumutu and Cadet Mahdi Rida
The Cadet Programme is open to all youth ages 12-18 years old. As they progress, their training becomes more specialized and the cadets have many subjects they can choose to focus on. The aim of the program is to develop in youth the attributes of good citizenship and leadership, promote physical fitness and stimulate an interest in the sea, land and air activities of the Canadian Forces.
Canadore trains people through applied learning, leadership and innovation. It provides access to over 65 full-time quality programs and has outstanding faculty and student services. The College and its students add nearly $290 million to the regions of Nipissing and Parry Sound. Approximately 1,000 students graduate from Canadore each year, and they join 44,000 alumni working across the globe.
For more information, please contact: Jessica Charette at 705.475.2538 or jessica.charette@canadorecollege.ca; Major Melissa Wordragen at 705.796-0921 or melissa.wordragen@forces.gc.ca
---
---