All Stories
A Living Wall Introduced on Campus
Sep 9, 2019 | Rebecca Morin, Web and Social Media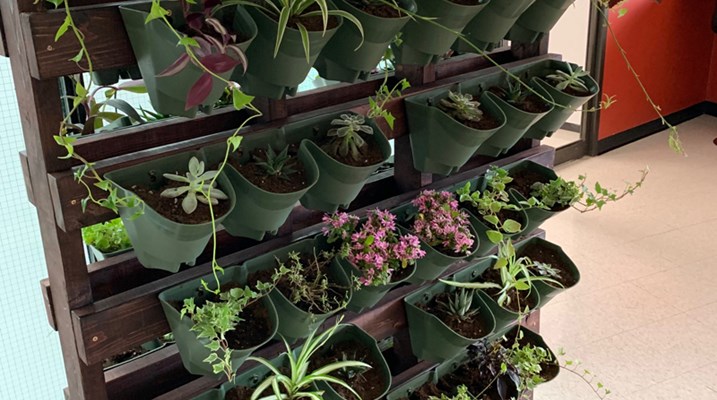 Canadore recently introduced a new addition to the third floor student lounge – a living wall!
You might be asking yourself, what is a living wall? Well it is a plant wall that provides filtering of air and is a stunning addition to the space!
We took some time to speak with Angela, Environmental Management student, Environmental Technician Alumni and Sustainability Tech/Custodian of the Hydroponic Pod to learn more about the Living Wall!
What is the purpose of the Living Wall?
It cleans the air, provides a beautiful visual and provides positive health benefits. It is similar to having a garden or the outdoors in a smaller format especially in an area that needs it.
Consider the benefits when Northern towns are in the midst of winter and you get to be in a space that has lush green plants growing.
What plants are currently included within this Living Wall?
Bellflower, spiderplants, succulents, various types of ivy, Astilbe, Spiderwort, as well as a variety of others.
Many of the plants are good for assisting in keeping down toxins in a living space.
Ivy, spider plants, some of the succulents, Tradescantia zebrina, include their aesthetic and some have the ability to grow rapidly to add more to the beauty of the wall.
What do you hope people will learn with the Living Wall?
The importance of plants in a living space and how they can positively affect attitude, physical and mental health and hopefully to see improvements in coexisting with nature in a positive way.
How is the Living Wall maintained?
I had planned the location carefully so that the light from the skylight and the larger windows would provide ample light to assist in growth, however a small battery powered grow light may be necessary during darker months. Hand watering for the moment is necessary but I am working on a simple gravity feed watering system.
We are fortunate to have passionate students like Angela here at Canadore. Angela's dedication is seen around campus in many ways…and we're lucky to be the recipients of her knowledge and passion!
---
---