All Stories
ACE March Newsletter - International Young Chef Olympiad Grand Finalists Make Canadore Proud
Mar 1, 2021 | Academic Centre of Excellence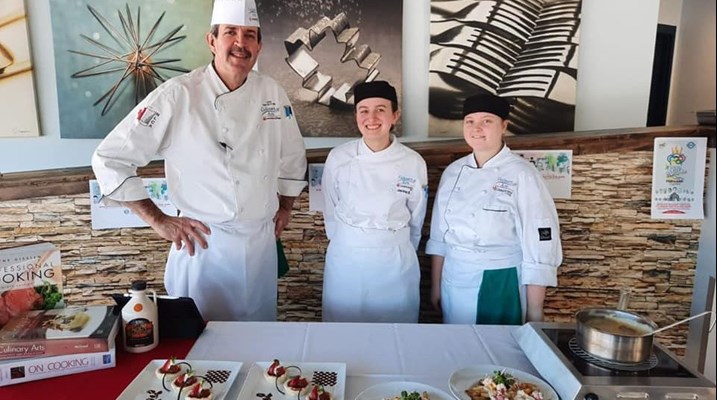 Academic Centre of Excellence - March Newsletter
Teaching & Learning Highlights
International Young Chef Olympiad Grand Finalists Make Canadore Proud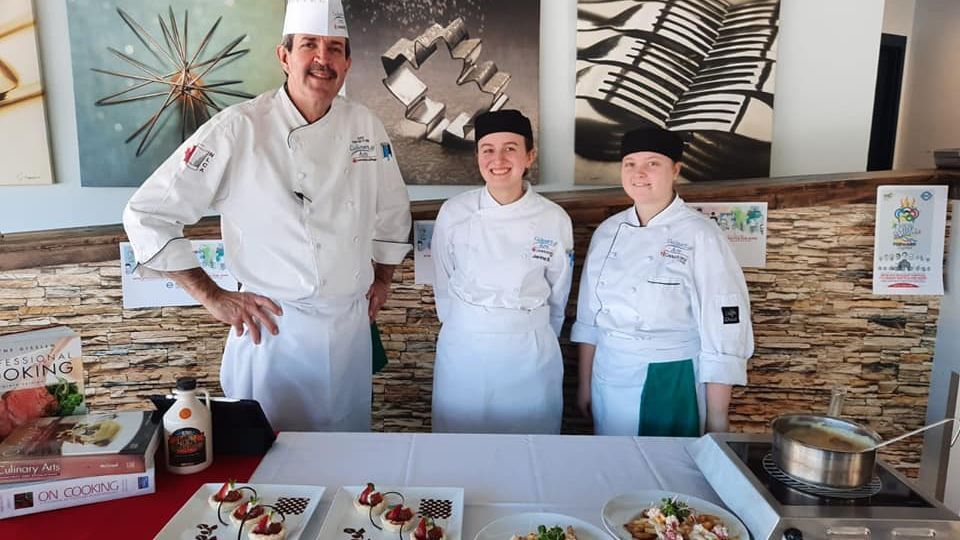 Left to right: Fintan Flynn, Jenna Bono, and Mia Hilts
---
This February, Canadore Culinary Management Students and Chefs Jenna Bono and Mya Hilts, along with Culinary Management Professor and Chef Fintan Flynn, participated in the International Young Chef Olympiad competition hosted by the International Institute of Hotel Management. With Jenna as chef, Mya as kitchen buddy, and Fintan as mentor, the student chefs prepared set dishes live for the competition within a strict timeframe. Their dishes, and the culinary skills they applied to create them, were judged to determine the Team's standing in the competition.

The Team did both Canadore and Canada proud. They placed in the top ten of the competition overall. This was no easy feat. The competition was fierce with teams competing for top place from over 50 countries. Canadore was the only Canadian team. Additional to their top ten finish, Chefs Jenna and Mya also won the competition's "Best Kitchen Hygiene" award and Chef Fintan won the "Best Mentor" award.

We caught up with Jenna, Mya, and Fintan to congratulate them on their outstanding accomplishment and ask them some questions about their competition experience from a teaching and learning perspective.
Chefs Jenna and Mya

What was the competition experience like for you?

Jenna: At first it was very stressful. It was a lot of work, but good and beneficial work. It was a lot of fun and a huge learning experience.

Mya: It was really fun. I learned a lot and put a lot of hours into getting ready for it. It was very different working with four cameras on us the whole time.

How does this experience support your learning and future career goals?

Jenna: It helped me realize how important it is to understand every recipe step and to have all ingredients, pots and pans assembled to create a dish properly in the least amount of time. This will help me in my labs at school and in my future career.

Mya: My job's focus was cleaning. This job made me realize how important it is to make sure everything is clean and ready to go because everything works faster when you are prepared. I also learned new recipes. I was able to watch Jenna cook and learn from her.

What's next for Jenna and Mya?

Jenna: School for this year! I'm not sure what after this year. I'll probably go to work. This competition will help me get a job. Then maybe I'll apply to complete the Limerick Institute of Technology's (LIT) Bachelor in Culinary Arts program in Ireland (Note: An articulation agreement between Canadore and LIT allow Culinary Management Students to study at LIT once they successfully complete their studies at Canadore).

Mya: School! I'm in first year of the Culinary Management program.

Chef Fintan

How does this contest support the culinary program and student learning at the College?
It allows us to enter students into the competition and give them the opportunity to apply what we teach them in the program. In competition, the students learn different techniques, speed, safety sanitation, and overall best kitchen practices. They can put everything they've learned over the past year to good use.

Will you compete again?
Yes. I would definitely do it again. It's a lot of work, but seeing the smiles on the students' faces after they complete their dishes on time with minutes to spare – it's amazing. It was a very proud moment for me as a faculty member for sure.


Congratulations Jenna, Mya, and Fintan. Canadore is proud of you. Visit the International Young Chef Olympiad website to learn more about the competition and view pictures of our talented Canadore Young Chef Olympiad Team too.
---
---