All Stories
April 3-9 Officially Proclaimed Canadore College Week
Apr 2, 2017 | Canadore College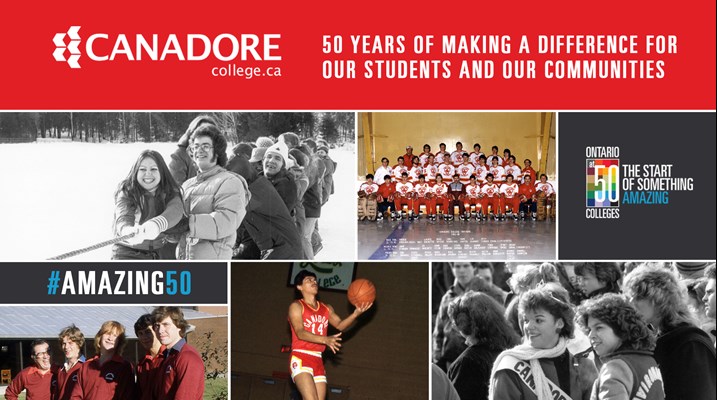 (NORTH BAY, ONT.) – Mayor Al McDonald will be officially proclaiming the week of April 3 – 9 as Canadore College Week tomorrow morning.
Canadore College is being bestowed this honour as a part of celebrating its 50th anniversary in 2017, a milestone marking half a century of actively developing the future of North Bay and surrounding areas.
"College education has had a tangible impact in developing communities here, and around the world," said George Burton, president and CEO of Canadore College. "At Canadore, we are proud to be the college of choice for many students while they study and learn professional skills. Many of our graduates choose to stay to set down roots and raise their families."
Canadore College has more than 4,500 students from around the world studying in more than 75 high-quality, exciting and engaging programs and apprenticeships and is approaching 50,000 alumni.
The College kicked off its 50th celebrations in February plans that tie into a provincial campaign, called The Start of Something Amazing, focused on the college system's remarkable legacy as we look ahead to the next 50 years.
The campaign will include videos, a province-wide bus tour, guest speaker engagements, broad-based community service and special events, an innovation fund contest and much more.
Canadore's is also celebrating with industry and alumni. The College's alumni contribute approximately $240 million to our regional economy in higher wages, increased efficiencies and productivity. Canadore will be visiting their alumni at more than 10 local organizations during Canadore College Week in recognition of its 50th anniversary, including the Union of Ontario Indians, Union Gas, the YMCA and Hard Hat Hunters. Canadore will also be carrying out more alumni visits throughout the year – for more information, contact Peggy Ledoux at peggy.ledoux@canadorecollege.ca or 705.474.7600, ext. 5172.
Other key values for Canadore College include:
Canadore College and its students added $289.2 million to the District of Nipissing and Parry Sound region economies
Canadore College students generated $10.9 million in new income in the economy
Canadore College saves the public $888.9 million by expanding the economic base and reducing social welfare costs
Overall, Canadore College's operational activities account for 6% of the region's Gross Regional Product
53 per cent of Canadore College students stay in the Nipissing District and Parry Sound region upon graduation
Event: Canadore College Proclamation Reading by Mayor Al McDonald
Date: Monday, April 3
Time: 9 a.m.
Locations: Office of the Mayor, North Bay City Hall, 200 McIntyre Street East, North Bay, Ont.
Canadore trains people through applied learning, leadership and innovation. It provides access to over 75 full-time quality programs and apprenticeships with outstanding faculty and student services. The College and its students add nearly $290 million to the regions of Nipissing and Parry Sound. Approximately 1,000 students graduate from Canadore each year, and they join 43,000 alumni working across the globe.
#Aviation and Aerospace #College Drive #Commerce #Corporate Communications #Events #General #Parry Sound #Profile
---
---