All Stories
Black History Recognition at Canadore
Feb 26, 2019 | Canadore College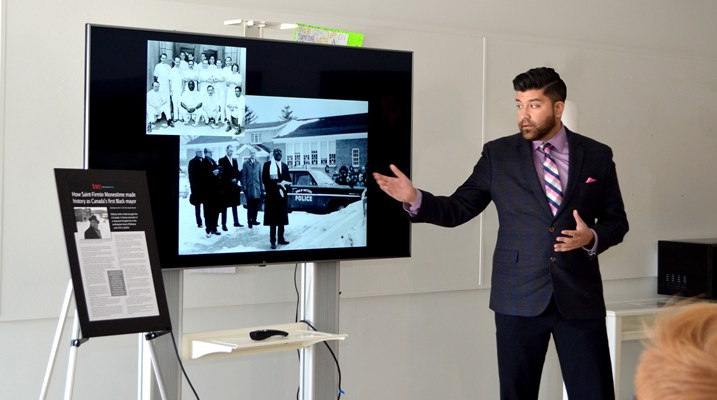 (NORTH BAY, ONT.) -- Today Canadore, as part of Black History Month, recognized Saint-Firmin Monestime, Canada's first Black mayor, and father of Yura Monestime, Canadore's associate dean of media, computing and culinary arts.
Monestime, originated from Haiti before becoming Canada' first Black mayor, in the town of Mattawa.
Monestime was a medical doctor and established and opened a 60-bed long term care facility, the Algonquin Nursing Home, in 1976.
Saint-Firmin was honoured today in front of Canadore employees and students.
Claude Sharma of TVO, wrote an article detailing his journey to taking his historic mayoral role.
"He was a political trailblazer with a storied and eventful life," Sharma wrote in his article. "…the people of Mattawa welcomed the doctor and his family, then the only Black residents in the town of roughly 3,000 people…he was known to make house calls at all hours of the day and night."
Monestime's son, Yura, associate dean at the College. Recalled stories of his Dad's kind nature and dedication to his patients. He noted the importance of celebrating Black History and all cultures.
"It is an honour to have my Dad celebrated today. It's important to celebrate Black History month in order to recognise individuals who have made a contribution to society. Honouring the past helps us move forward," he said.
The event took place at 11am today in Canadore's Light Therapy Lounge, D230 at the College Drive Campus.
Canadore College trains people through applied learning, leadership and innovation. It provides access to over 75 full-time quality programs and has outstanding faculty and provides success services to students from nearly 400 Canadian communities and 15 international countries. The College and its students add nearly $244 million to Nipissing Parry Sound Service Area economy. Approximately 1,000 students graduate from Canadore each year, and they join 45,000 alumni working across the globe. Canadore receives less than 50 per cent of its traditional funding from the provincial Ministry of Training, Colleges and Universities and relies on its own innovation and entrepreneurial endeavors and generous donors for the balance.
For more information, please contact: Jessica Charette at 705.475.2538 or jessica.charette@canadorecollege.ca; Carrie Richmond at 705.474.7600, ext. 5216 or carrie.richmond@canadorecollege.ca
#Events #General #Access and Inclusion #New #Profile #Student Life #WE Student Leadership
---
---