All Stories
Canadore College Advancing Culturally-Safe Health Care Conditions
May 2, 2017 | Canadore College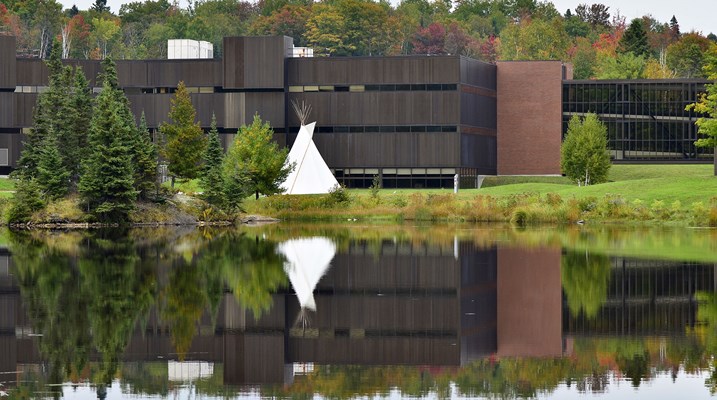 (NORTH BAY, ONT.) – Canadore College has received a grant from the Canadian Institutes of Health Research (CIHR) to carry out research to promote culturally-safe care for Indigenous Peoples.
The proposed research will utilize culturally-relevant learning simulations through human participants to improve interprofessional collaboration amongst various healthcare providers with a particular focus on working with Indigenous populations living and coping with cancer.
Researchers have indicated that Indigenous populations face a series of common barriers to receiving cancer treatment, including unequal access to cancer screening and prevention programs, limited knowledge of Indigenous cultural healing and wellness practices among practitioners and communication challenges in hospital settings.
These studies indicate an urgent need for improved culturally-safe care across human and health care settings to address systemic stereotyping, racism and discrimination and further encourages opportunities to access and utilize strength-based approaches to care with Indigenous Peoples.
"Cancer is a serious disease that can prey on the physical, mental, emotional and spiritual aspects of an individual and their family," said Mary Wabano, associate dean of Indigenous studies at Canadore College. "In First Nations, Métis cultures, each diverse and unique in their own way, traditional knowledge and concepts are essential to integrate into the healing journey."
Simulations will be developed using a collaborative interprofessional process involving health care and wellness practitioners, consumers and educators. Unique to this research project is the integration of Elders' knowledge and Indigenous concepts of health and wellness. Successful skill acquisition will be measured in culturally-based methodologies, including oral discourse and storytelling to help provide culturally-safe conditions within the healthcare system.
"What may appear to be small nuances in the sense of time, body language, amount of silence, volume of voice, and even the speed of speech or tone of voice, all convey very meaningful messages," said Wabano. "Without an understanding or appreciation for these subtleties and of our shared history, the possibility of misdiagnosis or mistreatment increases exponentially."
The $140,000 research project responds to the identified need for training across multiple health professions and address the alarming rise of cancer in Canada's Indigenous populations. Training extends from prevention to palliation and takes place over the course of one year beginning in September 2017.
Following completion of the research initiative, community and culturally-specific knowledge will be generated and to inform the burgeoning use of simulation in healthcare training.
The project's lead investigators are Dr. Cyndy Baskin and Patty Chabbert and co-investigators include Lorraine Liberty, Dr. Sean Lougheed, Dr. Katrina Srigley, Dr. Brenda Bruner and Dr. Timothy George Willett.
Canadore College also recently served as the lead institution with project partners, the First Nations Technical Institute and Seven Generations Education Institute, on a research project to explore and analyze Indigenous-focused programming and mobility across the province of Ontario with the Ontario Council on Articulation and Transfer (ONCAT).
"Canadore is steadfast in its commitment to Indigenous education," said Mary O'Farrell-Bowers, project research lead and vice-president of academics at Canadore College. "As an organization we feel an obligation to act on recent Truth and Reconciliation recommendations and this research aligns itself perfectly."
The research team hopes to bridge Indigneous knowledges with Western concepts of health and wellness, both of which are considered critical aspects of quality care and align with Canadore College's new intergenerational seniors' living facility, The Village. The unique model will incorporate a traditional healing lodge coupled with culturally-designed, relevant physical facilities, such as custom-built classrooms that link back to community gatherings, celebration, ceremony and smudging rooms, teaching lodges, healing lodges, sweat lodges, growth and harvesting of traditional medicines to promote inclusiveness, understanding and spirit of coming together. The Village is anticipated to open its doors in Spring 2018.
Nearly 20 percent of Canadore's total student population is of Ojibway, Oji-Cree, Cree Algonquin, Mohawk, Inuit or Métis descent from Ontario, Québec and nation-wide, one of the highest representations in the provincial college system.
Canadore trains people through applied learning, leadership and innovation. It provides access to over 75 full-time quality programs and has outstanding faculty and student services. The College and its students add nearly $290 million to the regions of Nipissing and Parry Sound. Approximately 1,000 students graduate from Canadore each year, and they join 43,000 alumni working across the globe.
For more information, please contact: Jessica Charette at 705.475.2538 or jessica.charette@canadorecollege.ca; Carrie Richmond at 705.474.7600, ext. 5216 or carrie.richmond@canadorecollege.ca
#Aboriginal #Collaboration #Experiential Learning #First Peoples' Centre #Health, Human, Wellness #Indigenous Studies #New #Programs #Research
---
---