All Stories
Canadore College and First Nations Technical Institute Renew Decades-Old Partnership
May 30, 2019 | Canadore College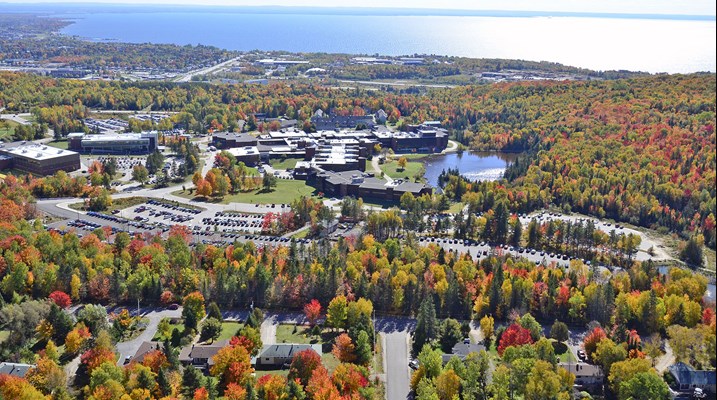 (NORTH BAY, ONT). -- First Nations Technical Institute (FNTI) and Canadore College have renewed their educational delivery partnership.
As an Indigenous-owned and governed post-secondary institution, FNTI has provided college and university programs and professional training to 102 Ontario First Nations through agreements with publicly-funded Ontario colleges and universities.
"Canadore College has been our college partner of choice for over 25 of our 35-year history," said Suzanne Brant, president of FNTI. "Our values are separate and distinct, yet they intersect within the foundation of respect and relationship-building. We are both committed to empowering individuals through education, providing cultural support and positive transformations."
Among the Canadore programs currently delivered by FNTI on the Tyendinaga Mohawk Territory situated on the Bay of Quinte are: First Peoples Aviation Technology, Indigenous Community and Justice Services, Early Childhood Education, Mental Health and Addiction Worker and Social Service Worker.
"Indigenous institutes are recognized as equal, unique and complementary pillars of post-secondary education in Ontario. They offer an environment for Indigenous learners to study while remaining in their home communities, growing their capacity and skills through Indigenous education" said Mary Wabano, director of Canadore's First Peoples' Centre and associate dean of the School of Indigenous Studies. "Our longstanding partnership with FNTI means that we will continue to work as a dedicated partner, and support their transition to even greater independence through new credentialing frameworks."
Brant says that FNTI is in the process of actively developing stand-alone curricula, including the Indigenous Sustainable Food Systems program, which will follow the institute's traditional intense mode of delivery, allowing Indigenous learners to maintain connections to family and community while studying.
About the First Nations Technical Institute
First Nations Technical Institute (FNTI) is an Indigenous-owned and governed postsecondary institute founded in programming rooted in indigegogy and Indigenous ways of knowing. FNTI is a registered charitable organization, accredited by the World Indigenous Nations Higher Education Consortium (WINHEC,) and a member of Colleges and Institutes Canada (CICan). FNTI has over 3,000 graduates with certificate, diploma and degree credentials issued in partnership with recognized Ontario colleges and universities.
About Canadore College
Canadore College trains people through applied learning, leadership and innovation. It provides access to over 75 full-time quality programs and has outstanding faculty and provides success services to students from nearly 400 Canadian communities and 15 international countries. The College and its students add nearly $244 million to Nipissing Parry Sound Service Area economy. Approximately 1,000 students graduate from Canadore each year, and they join 45,000 alumni working across the globe. Canadore receives less than 50 per cent of its traditional funding from the provincial Ministry of Training, Colleges and Universities and relies on its own innovation and entrepreneurial endeavors and generous donors for the balance.
www.canadorecollege.ca
For more information, please contact: Jessica Charette at 705.475.2538 or jessica.charette@canadorecollege.ca; Cathie Stewart Findlay 613.396.2122, ext. 124 or cathief@fnti.net.
#Indigenous #Admissions #Aviation and Aerospace #Collaboration #College Drive #Credit Transfer Pathways #Experiential Learning #First Peoples' Centre #Health, Human, Wellness #Indigenous Studies #New #Profile #Program Development #Programs #Recruitment
---
---