All Stories
Canadore College and Nipissing University lead effort to deliver enhanced mental health services to students
May 28, 2021 | Cindy Males, Public Relations and Communications Specialist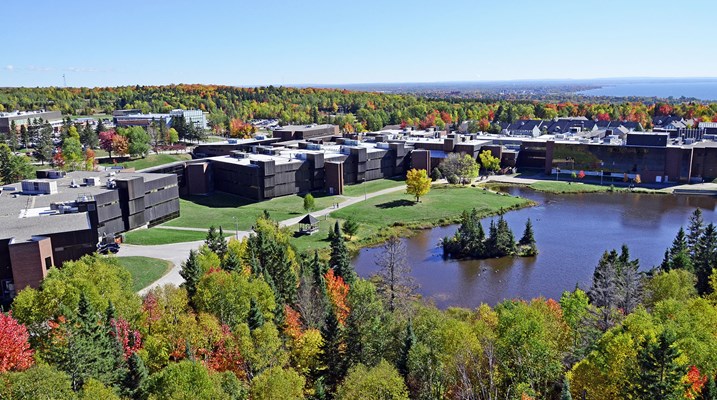 Canadore College and Nipissing University recognize the COVID-19 pandemic has added to the usual stress and anxiety many students experience. That is why they are collaborating to enhance mental health supports offered to their students. The two institutions will share in the $375,621 project funding announced earlier this week by Nipissing MPP Vic Fedeli.
"Canadore College and Nipissing University have strong track records of providing excellent student support services," said Canadore President and CEO George Burton. "We have a unique opportunity to collaborate for the benefit of our students."
"This collaboration with Canadore College is a great example of our shared commitment to prioritize student mental health and wellbeing," said Cheryl Sutton, President and Vice-Chancellor (Interim), Nipissing University.
The funding will support the Collaborating through COVID-19 project that includes different initiatives, each led by Canadore or Nipissing.
Canadore will lead:
Centralized case management software, linking all student services with academic programs to provide a seamless support system. The new portal will connect triage, self-help information, psycho-educational workshops, e-support, group and individual therapy, specialized services and crisis service/acute case management;
A Mental Health Nurse Practitioner in the Campus Health Services Centre available to both Canadore and Nipissing students. The nurse will provide specialized mental health triage and collect information to inform psychiatric consultation needs; and
A virtual evening drop-in/walk-in pilot program. This initiative has the potential to reduce hospital emergency department visits by providing a psychotherapist or social worker for walk-in or virtual consultations with students.
Nipissing University will lead:
The development of referral pathways referring students, including those studying remotely, to community student services;
A cross-institutional peer support model, increasing outreach to the Nipissing University and Canadore College student communities. Trained peer supporters will meet with students (days and evenings), supporting them in seeking the appropriate services. The peer supporters will be trained through a collaboration with the Nipissing Mental Health and Housing and Support Services or the Ontario Peer Development Initiative (OPDI) and will connect regularly with a supervisor; and
An opportunity to access psychiatric consultation for staff working with students experiencing languishing mental health to help triage services in a timelier fashion.
"Canadore's Student Mental Health and Well-being Strategy is making sure the College's support programs meet the needs of all of our learners, including our Indigenous and international students," said Burton. "This project with Nipissing University will see initiatives available to our students that wouldn't be possible otherwise."
"Nipissing University and Canadore College each bring unique strengths to the table that will allow us to offer exceptional mental health supports to students and further our commitment to student success," said Sutton.
Canadore College and Nipissing University are collaborating with Nipissing Mental Health Housing and Support Services and CBI Health Group to deliver this multi-faceted initiative.

Canadore College Media Contact:
Cindy Males
Public Relations and Communications Specialist
Canadore College
705-475-2538
Cindy.Males@canadorecollege.ca
Nipissing University Media Contact:
Meghan Venasse
Manager, Communications
Nipissing University
705-474-3450 ext. 4615
meghanv@nipissingu.ca
#Corporate Communications #Student Life #Canadore College #sustainability
---
---