All Stories
Canadore College and Nipissing University Partner with Ignite North Bay for March 5 Event
Feb 21, 2019 | Canadore College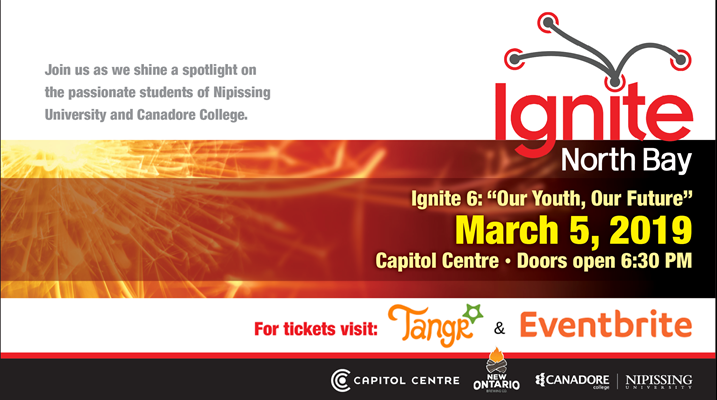 (North Bay, Ont.) – Nipissing University and Canadore College are proud to partner with Ignite North Bay to deliver "Our Youth, Our Future," an evening at the Capitol Centre which features student speakers from the two institutions. The students will be sharing innovations, motivations, and inspirations, with proceeds going to the Canadore and Nipissing emergency student food banks.
"As students, we are often seen as the leaders of tomorrow, but my peers and I don't believe in waiting so we are taking on leadership roles on campus and in our community right now," said Shawn Jones Jr., Canadore Students Council president and second-year aircraft maintenance student. "I have the privilege of knowing what many of our students are doing because I see them every day. I hope that the community will join us at the Ignite North Bay event to learn more about how student passions are making positive change."
Similarly, the Nipissing University Student Union's President, Daniel Goulard, expressed that "Ignite North Bay is a great way for people to share their experiences and knowledge with the wider North Bay community" and that students "are excited to see Nipissing and Canadore students sharing the stage and showcasing the incredible talent students in North Bay have to offer."
Community members are invited to attend, with tickets available to be purchased online at Tangr.com or Eventbrite.
"Ignite North Bay is focused on fostering community by giving those in the community a platform to share their wisdom, passion and insight. Ignite leaves all a little closer and a little more unified", said Mike Campigotto, founder of Ignite North Bay. "We are thrilled that Nipissing University and Canadore college are joining us to inspire our community as they showcase our youth, our future. "
The event is scheduled to occur on March 5, 2019, from 7:00-10:00 p.m.
-30-
Canadore College Media Contact: Jessica Charette, Communications and Public Relations, Office of the President
Telephone: 705.474.7600 ext. 5911
Email: jessica.charette@canadorecollege.ca
#Alumni #Collaboration #Events #Experiential Learning #General #New #Profile #Student Life
---
---