All Stories
Canadore College and the Canadore Foundation dedicate new campus Wellness Garden
Sep 28, 2021 | Cindy Males, Public Relations and Communications Specialist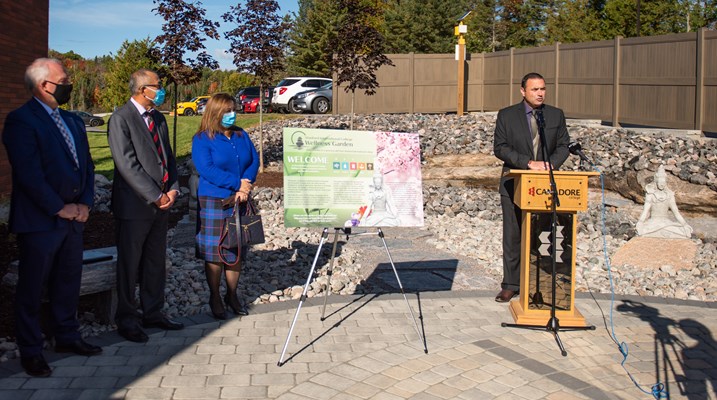 Canadore College and the Canadore College Foundation have dedicated an on-campus Wellness Garden, and thanked their Toronto partner, Stanford International College of Business and Technology, for their generous gift to The Village capital campaign. The Stanford International College Wellness Garden is built at the entrance to The Village – the health and wellness facility located at Canadore's College Drive Campus in North Bay.
"The Village is our holistic approach to health and wellness training and education based on the practices of Indigenous, Eastern and Western cultures all of which encompass a healthy mind, body, and spirit," said George Burton, Canadore President and CEO. "The garden is a key attribute supporting Canadore's vision of the Village and provides another teaching and learning element for students, staff and community."
"The Wellness Garden provides an opportunity for people to experience a part of Eastern culture," said David Ding, President of Stanford International College. "We love the people of North Bay and hope they become more and more familiar with Eastern culture by visiting the garden."
The Stanford International College Wellness Garden embodies elements of wind, water, sound, fire, and soil. The design creates an admiration for, and a sense of harmony with, nature. While Eastern cultures influence the design, the garden utilizes hardy plants that fit our northern climate.
The garden changes with the seasons - cherry blossoms flower in the spring; irises bloom in the summer; maple leaves glow red and yellow in the fall. The trees, both native and Japanese - are pruned in the Japanese tradition to frame the garden in the winter. No matter what time of year, stone paths that cross water features create a peaceful atmosphere that invites you to reflect on both the beauty of nature and its place in your life.
"We believe that our partnership has provided exceptional opportunities for our students," said Sapna Thakur, Senior Vice President, Stanford International College of Business and Technology. "The wellness garden provides home away from home for the international students and community."
"Canadore College through The Village, and with our community, continues to work towards creating a more equitable, inclusive and diverse campus environment," said Shawn Chorney, Canadore College Vice President, Strategic Infrastructure, Indigenous and Learner Services. "We are building on our success and challenges that our college community has learned from over time. The Wellness Garden creates a reflective space that is designed with the purpose of supporting mental wellness, while establishing a visual marker of our commitment to a pluralistic community."
The Canadore Foundation thanked Stanford International College for its original $1 million donation that made the Wellness Garden possible, and announced a further commitment from Stanford of an additional $1 million over the next five years, this time to more directly help international and domestic students studying at Canadore College in North Bay.
"The Canadore Foundation proudly supports Canadore College by fundraising for special projects, scholarships and bursaries, and applied research, said Foundation Chair Kirk Kelusky. "We are deeply grateful for this generous multi-year donation from Stanford International College; it will have an immensely positive impact on the success of international and domestic students choosing Canadore and North Bay as their postsecondary home."
-30-
About Stanford International College of Business and Technology: Stanford International College offers career-focused programs in Trades, Technology, Business and Healthcare. Stanford recognizes the importance of ongoing learning and offers additional pathways to education and credentials for our graduates. Stanford and Canadore signed an articulation agreement in 2012. Stanford International College has four campuses – Brampton, Mississauga, Scarborough, and Toronto
About Canadore College: Canadore College provides access to over 80 full-time quality programs and outstanding faculty, and provides success services to students from nearly 400 Canadian communities and 15 international countries. The College, its students, and alumni add $369 million to the Nipissing Parry Sound service area economy. Approximately 1,000 students graduate from Canadore each year, and they join 48,000 alumni working across the globe.
About the Canadore College Foundation: The Canadore College Foundation exists to provide leadership in meeting the long-term development and fundraising objectives established by the Canadore College Board of Governors to benefit students, programs and applied research at Canadore College. Canadore receives less than 50 per cent of its traditional funding from the provincial Ministry of Colleges and Universities and relies on its own innovation and entrepreneurial endeavours and generous donors for the balance. Ministry of Training, Colleges and Universities and relies on its own innovation and entrepreneurial endeavors and generous donors for the balance.
About The Village: The Village is a world-class health and wellness facility located at Canadore College's College Drive Campus in North Bay. The facility – a first of its kind in Canada – blends Indigenous, Eastern, and Western health practices, and it is providing a ground-breaking approach to educating the next generation of Canada's health and social service professionals. The Village offers student-led clinics, custom-built classrooms, and a traditional Indigenous ceremony space. The Village vision is to become a centre of excellence in healthy aging in the North.
-30-
For more information, please contact Cindy Males, Public Relations and Communications Specialist, cindy.males@canadorecollege.ca or 705-475-2538 or Brad Gavan at the Canadore Foundation, at bradley.gavan@canadorecollege.ca or 705-840-3473.
#Alumni #Board of Governors #Canadore@Stanford #Canadore Foundation #College Drive #Corporate Communications #Events #Office of the President #The Village #George Burton #Canadore College #President #North Bay
---
---