All Stories
Canadore College and the Parry Sound Forest School collaborate to teach about nature.
Jun 29, 2020 | Cindy Males, Public Relations and Communications Specialist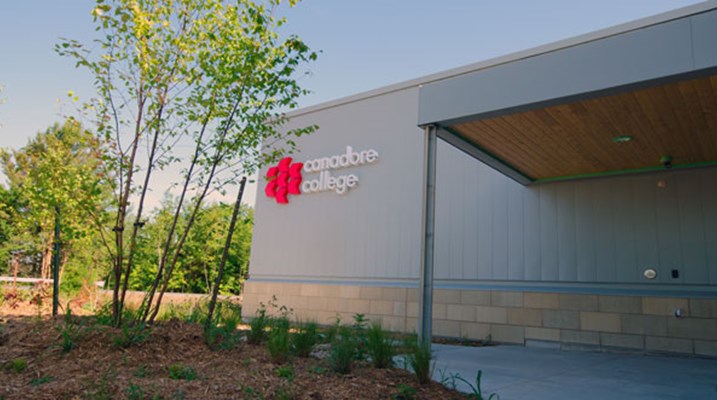 Canadore College welcomes the Parry Sound Forest School to its West Parry Sound Campus, on a more permanent basis. After two summers of successfully offering a day-program to children, the Forest School has signed a one-year lease and, beginning June 29, 2020, will offer its program year-round.
We are thrilled to be able to offer this program year-round to the families of Parry Sound and area," said Diana Clements, Forest School educator. "Together we will nurture children's physical, social, emotional, and academic growth and help them to better understand and become connected to a small piece of our beautiful Georgian Bay Biosphere!"
"As the concept of learning throughout life becomes understood, we develop a learning society," said Lee-Ann Turner, Canadore College Parry Sound Campus Supervisor. "Every opportunity affords learning and fulfillment of potential. Having the Parry Sound Forest School at our campus will support students already engaged in learning about early childhood education, health promotion, and development through all stages of life."
A forest school is not the same as traditional environmental education; it is a way of learning that began more than 50 years ago, in Scandinavia, and it arrived in Canada in the last decade. It encourages a connection to nature to create a desire for the children to protect nature. The students are carefully monitored to allow them to experience age-appropriate risks such as tree climbing, tool and rope use, and campfires. The ecological features around the West Parry Sound Campus, including the adjacent forest and the Brigg's Pond wetland, make the collaboration between Canadore College and the Parry Sound Forest School a natural one.
-30-
Canadore College trains people through applied learning, leadership and innovation. It provides access to over 80 full-time quality programs and has outstanding faculty and provides success services to students from nearly 400 Canadian communities and 15 international countries. The College and its students add nearly $244 million to the Nipissing Parry Sound Service Area economy. Approximately 1,000 students graduate from Canadore each year, and they join 46,000 alumni working across the globe. Canadore receives less than 50 per cent of its traditional funding from the provincial Ministry of Training, Colleges and Universities and relies on its own innovation and entrepreneurial endeavors and generous donors for the balance.
For more information please contact Cindy Males at 705-475-2538 or at Cindy.Males@canadorecollege.ca
---
---