All Stories
Canadore College Announces Another Six Figure Donation to The Village
Mar 23, 2018 | Canadore College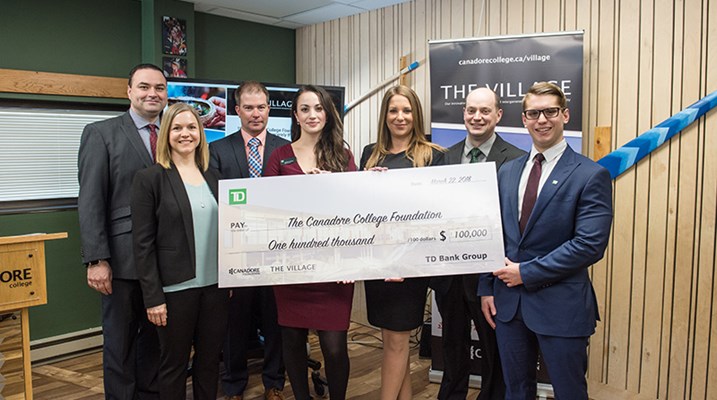 (NORTH BAY, ONT.) – Today, Canadore College celebrated a $100,000 donation from TD Bank to The Village's capital campaign.
Representatives from TD Bank, Andrea Tomasini, branch manager for the Main Street location; Alyssa Favero, branch manager for the Laurentian location; and Jonathan Loewen and David Silveri, partners from the commercial banking section were on campus to deliver the good news.
"TD Bank in North Bay, along with our commercial and wealth partners, are extremely thrilled and honoured to be a part of this ground-breaking initiative to educate the next generation of our nation's health and wellness professionals," said Tomasini. "We feel that this is a very inspiring and exciting new adventure for our community. As an organization, we particularly value endeavors in which there is an opportunity to work together in investing and developing a stronger educational community for our future generations. We are truly looking forward to working together to see The Village come to life and continue to grow."
This substantial investment will be directed to the new Indigenous Centre within The Village, representing approximately one third of the facility's instructional area. The cultural centre will include applied learning spaces for Indigenous programs, a community kitchen and an Elder's room. In addition to academic delivery, the spaces will be available to the broader community for hosting cultural activities and workshops.
TD's gift will also create student awards for Indigenous learners who choose to study in the college's School of Health, Human Care and Wellness. In addition, the bank will deliver the TD Bank Group Speakers Series focused on financial literacy over the next five years.
"Canadore considers itself to be very fortunate in having the confidence of partners, like TD Bank, who share in the value of community connectedness like we do," said George Burton, president and CEO of Canadore College. "It is through this kind of strength and collaboration that we make strides in applying innovative practices that improve our community members' quality of life."
The Village concept by Canadore College is the only model of its kind in Canada, focused on collaborative interprofessional education and the integration of Indigenous, Eastern and Western healing and wellness practices. The centre will integrate seniors' and community care, with teaching, experiential skills training and applied research provided by North Bay, Ontario's Canadore College -- all in one facility.
The facility's construction and technology is valued at $20 million in total. In the past two months, Canadore has announced donations of $1.2 million to add to the $5.63 million from the federal government and $800,000 from the province. The overall fundraising campaign goal is $5 million from non-government sources.
To learn more about The Village and the different ways to give to the capital campaign, contact the Canadore Foundation by contacting Brad Gavan at 705.840.3473 or brad.gavan@canadorecollege.ca.
Canadore College trains people through applied learning, leadership and innovation. It provides access to over 75 full-time quality programs and has outstanding faculty and success services to students from nearly 400 Canadian communities and 15 international countries. The College and its students add nearly $244 million to Nipissing Parry Sound Service Area economy. Approximately 1,000 students graduate from Canadore each year, and they join 44,000 alumni working across the globe. Canadore receives less than 50 per cent of its traditional funding from the provincial Ministry of Advanced Education and Skills Development and relies on its own innovation and entrepreneurial endeavours and generous donors for the balance.
For more information, please contact: Jessica Charette at 705.475.2538 or jessica.charette@canadorecollege.ca; Carrie Richmond at 705.474.7600, ext. 5216 or carrie.richmond@canadorecollege.ca
#Aboriginal #Canadore Foundation #Collaboration #Events #Experiential Learning #First Peoples' Centre #General #Health, Human, Wellness #Indigenous Studies #New #Office of the President #Profile #Programs #Research #The Village
---
---