All Stories
Canadore College Announces Groundbreaking Partnership with The DNA Company
Mar 8, 2019 | Canadore College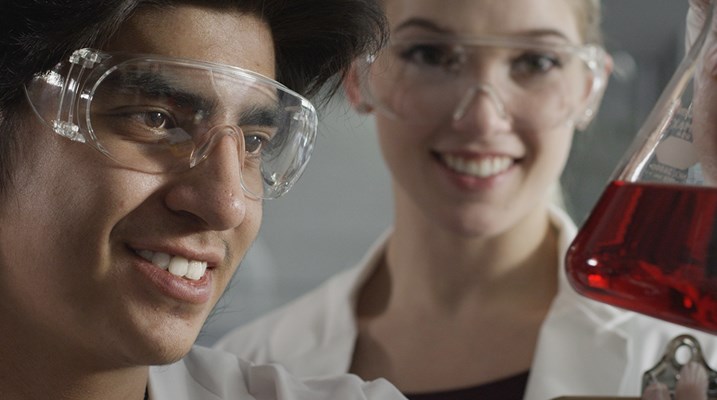 (NORTH BAY, ONT.) – Canadore College and The DNA Company announced a facilities and research partnership earlier today.
The DNA Company will be creating an innovative genomics laboratory in partnership with Canadore College, equipped with some of the most leading-edge technology available in Canada. The lab will include two DNA sequencers that will create the capacity for research to harness a better understanding of diseases and how to prevent and treat them more efficiently.
"The DNA Company has been approached by leading institutions across North America to establish a research lab to further develop its science in functional genomics," Kashif Khan, chief executive officer of The DNA Company. "As a Canadian company, we have chosen to decline incentives south of the border to maintain our identity as a homegrown Ontario biotechnology firm. Our partnership with Canadore College will ensure the impact of our science benefits Canadians first, be it the economic stimulus, or improvements in healthcare."
The collaboration and resulting modernized infrastructure will allow Canadore College to enhance current biotechnology programs, as well as develop new curricula for a stand-alone postsecondary program in genomics. Canadore will also be creating short professional development courses in functional genomics testing aimed at physicians and advanced health care providers. The course content will be directed by Dr. Mansoor Mohammed, PhD who is considered one of the most innovative leaders in the emerging sector of personalized medicine and lifestyle genomics.
All of these courses are being considered for curriculum licensing to other North American institutions, and international educational partners.
The partners are evaluating a variety of research potentials, including pharmacology, addictions, surgical implants and liver morbidities. New research in genomics will add to the present-day scope of Canadore's applied research portfolio, which is currently valued at nearly $2.5M.
"We have been working very hard at Canadore to enhance healthcare technologies available in our community," said George Burton, president and CEO of Canadore College. "Beginning with The Village, and the integration of Indigenous, eastern and western wellness practices, we are realizing greater access to a wide range of wellness options. Through the work of The DNA Company, we are even closer to being able to make evidence-based and personalized decisions about what we each need to be healthier."
The global genomics market is expected to reach USD 27.6 billion by 2025 and workforce development is in great need. Canadore and The DNA Company will develop a range of academic programming, including certificate and diploma credentials, as well as skills development opportunities for a wide range of medical professionals to respond to this need.
Construction on the first phase of the genomics lab, which is 1,000 sq. ft., will begin next month.
Canadore College trains people through applied learning, leadership and innovation. It provides access to over 75 full-time quality programs and has outstanding faculty and provides success services to students from nearly 400 Canadian communities and 15 international countries. The College and its students add nearly $244 million to Nipissing Parry Sound Service Area economy. Approximately 1,000 students graduate from Canadore each year, and they join 45,000 alumni working across the globe. Canadore receives less than 50 per cent of its traditional funding from the provincial Ministry of Training, Colleges and Universities and relies on its own innovation and entrepreneurial endeavors and generous donors for the balance.
For more information, please contact: Jessica Charette at 705.475.2538 or jessica.charette@canadorecollege.ca; Carrie Richmond at 705.474.7600, ext. 5216 or carrie.richmond@canadorecollege.ca
#Collaboration #College Drive #Enviro and Biotech #Experiential Learning #General #Health, Human, Wellness #New #Profile #Program Development #Programs #Recruitment #Research
---
---