All Stories
Canadore College Announces Significant Donation to The Village from North Bay's Deacon Family
Feb 22, 2018 | Canadore College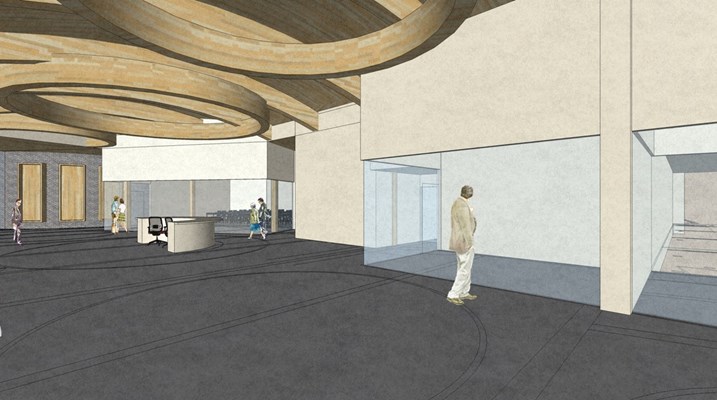 (NORTH BAY, ONT.) – Canadore College celebrated a $200,000 donation to The Village's capital campaign today.
"Initiatives as unique and transformative as The Village come around once every generation, so it really is our family's honour to be associated with such an amazing project, and to offer a bit of help to ensure its success," said Mark and Steve Deacon, along with Mark's mother, Annette Deacon. "In addition to helping make The Village a reality, our family hopes that our gift will inspire others to become involved in this project… a project that will change how health care training is delivered."
This significant donation will be recognized by naming the centre's reception area as The Deacon Family Meeting Place. The space is symbolic of the first welcome that patrons of The Village will receive, and will represent the convergence of Indigenous, Eastern and Western cultures.
"We are so grateful for the Deacon Family, who believes in The Village on so many different levels," said George Burton, president and CEO of Canadore College. "Canadore is setting out to change the model of health care delivery and to evolve how we train the professionals within this sector. We honestly couldn't make The Village a reality without the unwavering support of community champions like Mark, Steve and Annette Deacon."
The Village concept by Canadore College is the only model of its kind in Canada, focused on collaborative interprofessional education and the integration of Indigenous, Eastern and Western healing and wellness practices. The centre will integrate seniors' and community care, with teaching, experiential skills training and applied research provided by North Bay, Ontario's Canadore College -- all in one facility.
The facility's construction and technology is valued at $20 million in total. Earlier this month, Canadore also received a $1 million dollar donation from private donors to supplement the $5.63 million from the federal government and $800,000 from the province. The overall fundraising campaign goal is $5 million from non-government sources.
Canadore College trains people through applied learning, leadership and innovation. It provides access to over 75 full-time quality programs and has outstanding faculty and success services to students from nearly 400 Canadian communities and 15 international countries. The College and its students add nearly $244 million to Nipissing Parry Sound Service Area economy. Approximately 1,000 students graduate from Canadore each year, and they join 44,000 alumni working across the globe. Canadore receives less than 50 per cent of its traditional funding from the provincial Ministry of Advanced Education and Skills Development and relies on its own innovation and entrepreneurial endeavours and generous donors for the balance.
For more information, please contact: Jessica Charette at 705.475.2538 or jessica.charette@canadorecollege.ca; Carrie Richmond at 705.474.7600, ext. 5216 or carrie.richmond@canadorecollege.ca
To learn more about The Village and the different ways to give to the capital campaign, contact the Canadore Foundation by contacting Brad Gavan at 705.840.3473 or brad.gavan@canadorecollege.ca.
#Aboriginal #Canadore Foundation #Collaboration #College Drive #Experiential Learning #First Peoples' Centre #General #Health, Human, Wellness #Access and Inclusion #Indigenous Studies #International #New #The Village
---
---