All Stories
Canadore College Approved for Second Phase of Indigenous Research Projects
May 15, 2017 | Canadore College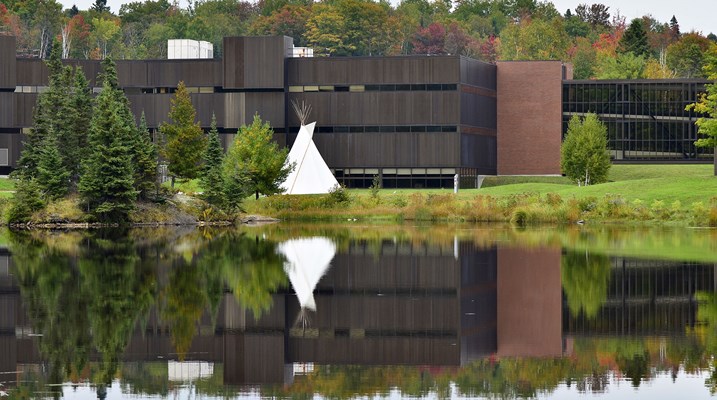 (NORTH BAY, ONT.) – Canadore College has been approved to deliver another Indigenous research project funded by the Ontario Council on Articulation and Transfer (ONCAT).
The new research will create a comprehensive inventory of Indigenous-related postsecondary programs and community-based deliveries and map it against individual students' transfer experiences from admission to employment.
"ONCAT is pleased to continue to support the work being done by Canadore College and its many institutional partners on this indigenous research project," said Lia Quickert, interim executive director of ONCAT. "While ONCAT has a broad-based understanding of student mobility and the student experience in Ontario, we are keen to invest in this next phase of research that focuses specifically on the Indigenous learner experience from admissions to employment. This research provides a foundation to help improve Indigenous education, and is a step in the journey of reconciliation with Indigenous peoples."
As research lead institution, Canadore received a $200,000 contribution to explore and analyze Indigenous-focused programming and mobility across the province of Ontario with project partners the First Nations Technical Institute (Tyendinaga Mohawk Territory, Ont.) and Seven Generations Education Institute (Kenora, Ont.) in June 2016.
"Our system has been doing a disservice to First Nations, Métis and Inuit learners by creating significant barriers to transfer and mobility," said Shawn Chorney, vice-president of enrolment management, Indigenous and student services. "While we've known for quite some time that the gaps exist, the research has been important to bring the issues to a head and to make them known to all postsecondary institutions. And with that, propose fair and equitable solutions that are meaningful to the needs of Indigenous students."
Over 30 colleges and universities across Ontario participated in the first round of research. Results point to 67 per cent of participating institutions having Indigenous programs in place, predominantly in preparatory studies and social services. Disciplines lacking any laddering educational pathways include law and justice, hospitality and tourism and aviation. When seeking to further their post-secondary education in an Indigenous program stream, most learners hold an Ontario College Diploma and seek to earn an Ontario University Honours Bachelor's Degree with the most common amount of credit being given between programs being more than one year but less than two years.
The research team found the study's results very interesting and goes on to say that for every question answered, another question was raised and the need for more research was apparent.
"Phase II will help us identify best practices, rooted in student success metrics, to help learners achieve their individualized educational goals to begin careers of their choosing in the fastest way possible," said Chorney. "This will be made possible by ensuring that our provincial institutions become increasingly aware of the barriers that exist within the system, and how to eradicate them."
The pathways inventory project was carried out by lead researcher, Dr. Lana Ray and Canadore College project leaders Jeannette Miron, registrar and director of strategic enrolment services and Mary Wabano, associate dean of Indigenous studies.
Miron and Ray presented the initial project's discoveries at the 6th Annual Student Pathways in Higher Education Conference in Toronto, Ont.
Canadore College applied for Phase II funding to further investigate research findings after ONCAT issued a call for proposals in late 2016. The one-year project is valued at $111,000 with ONCAT funding nearly $86,000 and the rest being contributed in-kind.
Canadore trains people through applied learning, leadership and innovation. It provides access to over 75 full-time quality programs and has outstanding faculty and student services. The College and its students add nearly $290 million to the regions of Nipissing and Parry Sound. Approximately 1,000 students graduate from Canadore each year, and they join 43,000 alumni working across the globe.
For more information, please contact: Jessica Charette at 705.475.2538 or jessica.charette@canadorecollege.ca; Carrie Richmond at 705.474.7600, ext. 5216 or carrie.richmond@canadorecollege.ca
#Indigenous #Collaboration #Credit Transfer Pathways #Experiential Learning #First Peoples' Centre #Indigenous Studies #New #Research
---
---