All Stories
Canadore College Commerce Court Campus welcomes new project to recognize Truth and Reconciliation
Oct 4, 2021 | Cindy Males, Public Relations and Communications Specialist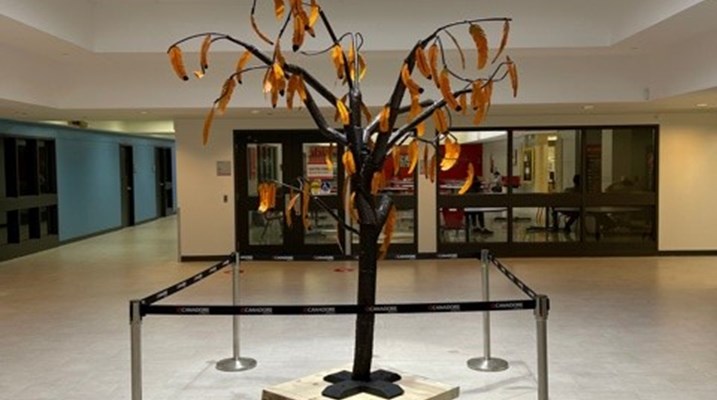 The "Every Child Matters - Tree of Life" stands in the atrium of Canadore's Commerce Court Campus. Created by the General Carpenter Pre-Apprenticeship Program for Women, it stands as a symbol of Indigenous resilience and hope.
The design concept honours the children who did not come home, and those who have been affected by residential schools.
"It was quite a bit of work and very emotional," said student Angelique Brimley. "I am honoured that I could take part in such a symbolic gesture on behalf of Canadore College and the General Carpenter Pre-Apprenticeship Program for Women."
"The crooked tree is a story where trees, bent while young and malleable, do prosper and grow into strong trees despite the pains of life," said Faculty member Jacques Goudreau. "I wanted the leaves, which are feathers, to represent the ability for all the children to take flight and reach lofty heights; to overcome life's pain and sorrows; to recognize and accept the truth; and to reconcile decades of inequalities between Indigenous and non-Indigenous people."
The program, offered through the First Peoples' Centre, and funded by the Government of Ontario, is currently in its third year. This culturally-based program provides students with technical and hands-on training, while incorporating a holistic approach to employable skills development, self-development, and academic knowledge. Each year the program includes a 30-hour exposure to a secondary trade. This year that trade was welding. The women in the program helped to cut steel pipe and ran welding beads all the way up each piece to simulate realistic looking tree bark.
"The General Carpenter Pre-Apprenticeship program for Women is designed to provide wrap-around supports for women, including culturally safe supports for Indigenous women," said Marissa Gillies-Linklater, Project Lead – General Carpenter Pre-Apprenticeship for Women. "With the program being geared towards Indigenous and non-Indigenous women, the "Every Child Matters - Tree of Life" project has contributed to fostering important dialogue and understanding about the history of residential schools, and encourages continued conversation and inquiry among Indigenous and non-Indigenous people."
"As educators, we have a unique opportunity to carry forward the intention and spirit of the National Day for Truth and Reconciliation into our daily practice," said Shawn Chorney, Vice-President, Strategic Infrastructure, Indigenous and Learner Services. "The Every Child Matters - Tree of Life serves as a permanent reminder of our collective commitment to realizing the goals of the Indigenous Education Protocol, and to the recommendations of the Truth and Reconciliation Commission."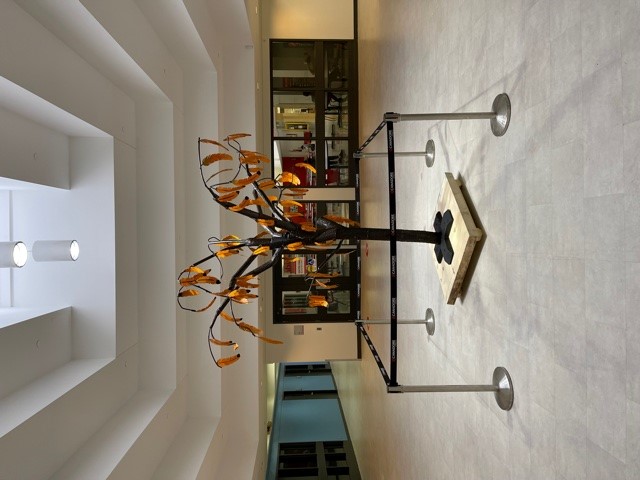 #Commerce #First Peoples' Centre #Indigenous Studies #Trades and Tech #sustainability
---
---