All Stories
Canadore College continues to fill shortages in the skilled trades
Jan 4, 2022 | Cindy Males, Public Relations and Communications Specialist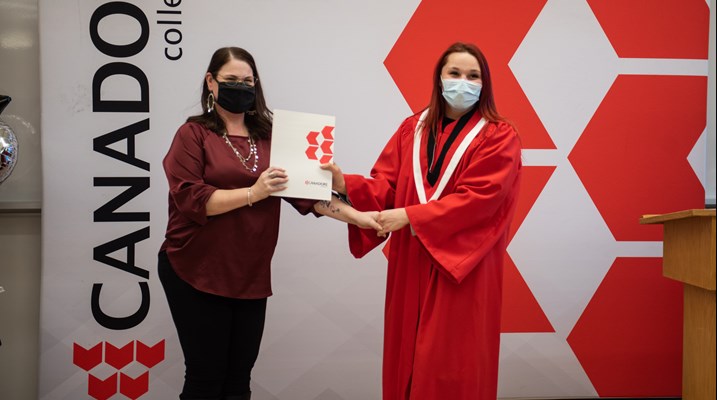 Canadore College is delivering on its promise to provide trained people to fill gaps in the skilled trades. Recently, 12 women from North Bay and area, as well as First Nations communities across the province, successfully completed the General Carpenter Pre-Apprenticeship Program for Women.
"I never thought an ad on Facebook would change my entire life, and here I am completing this program with a one-year-old child at home. And, I now have my General Carpenter level 1, and landed a full time job during my placement," said graduate Courtney Barnsdale.
"From the amazingly helpful and understanding teachers, to the tireless effort of both my program coordinator and the placement coordinator, to the endless resources offered to me, I was given every single key to success through this program. I am extremely grateful to each and every single person who helped me achieve so much in this program, and I couldn't be happier in the career path I've chosen." said Barnsdale.
"We are so pleased to have completed our third intake of this program with great success," said Sarah Julian, Manager of Community Based and Contract Training, with Canadore's First Peoples' Centre. "These women have worked so hard and are now equipped with the skills and technical training to further develop their skills within this trade."
"It was fabulous being with mostly Indigenous women and learning the carpentry trade," said graduate Joan Chalifoux. "I appreciated the support from the women in the course. We helped each other when we were struggling personally or with the course content. I learned so much during my time in the program and felt confident to use and practice the skills during my placement."
Many of the women in this year's class have gone back to their home communities to work, some are continuing their studies at a post-secondary level, others were signed on as an apprentice with their employer, and some were hired by their work placements from the program.
---
---