All Stories
Canadore College continuing the conversation about systemic racism
Feb 8, 2023 | Cindy Males, Public Relations and Communications Specialist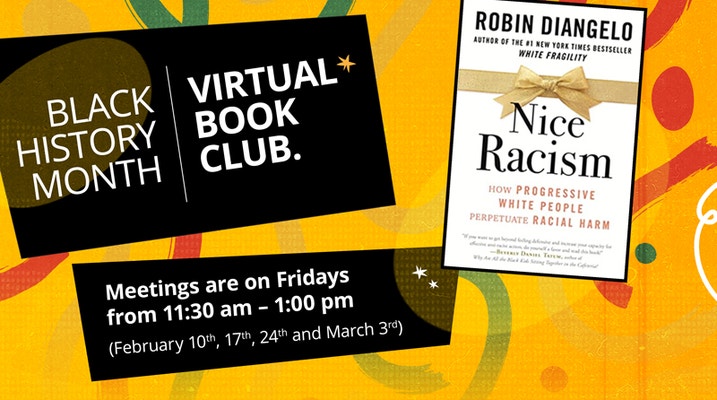 Canadore College is recognizing Black History Month in a unique way. Employees and students will participate in a book study of Nice Racism: How Progressive White People Perpetuate Racial Harm by Robin DiAngelo. DiAngelo is a sociologist with more than 25 years' experience as an anti-racist educator.
"The book study and choice of book are an opportunity to continue the conversation about the existence and persistence of systemic racism and white supremacy," said Jemimah Amos, Canadore College's Inclusion, Diversity, Equity, and Accessibility (IDEA) specialist. "DiAngelo identifies many common white racial patterns and breaks down how well-intentioned white people unknowingly perpetuate racial harm. Nice Racism engages the concepts of complicity and accountability which are important factors for anti-racism action, equity, and inclusion."
"By facilitating these book studies we are able to learn more about the past, and we can better understand and reflect on the difficulties faced by people of colour," said Erin Plourde, Access and Inclusion Coordinator. "By educating ourselves, we can create a more inclusive environment for everyone and make positive changes."
"This book study, if we engage with it in authenticity and with a genuine desire to learn, can be ground breaking for our community," said Vindra Sahadeo, Equity and Inclusion Facilitator, North Bay and District Multicultural Centre. "It can be a stepping stone to help us all begin to see the problematic impact of the racist status quo that is the very water in which we swim. It is an opportunity to open our minds and hearts to recognize not just individual racism, but the systemic and structural racism that is imbedded in our culture, policies, practices, and procedures, and to see the harm that we are perpetrating on a daily basis on the racialized people in our spaces."
Sahadeo will facilitate the book studies, which will be offered every Friday between February 10 and March 3, 2023, from 11:30 a.m. to 1:00 p.m. via Zoom. Canadore College employees and students should reach out to Erin Plourde at Erin.Plourde@canadorecollege.ca or Jemimah Amos at Jemimah.Amos@canadorecollege.ca for more information.
---
---