All Stories
Canadore College Creates Alumni Hall of Fame and Celebrates Traditions
Jun 21, 2016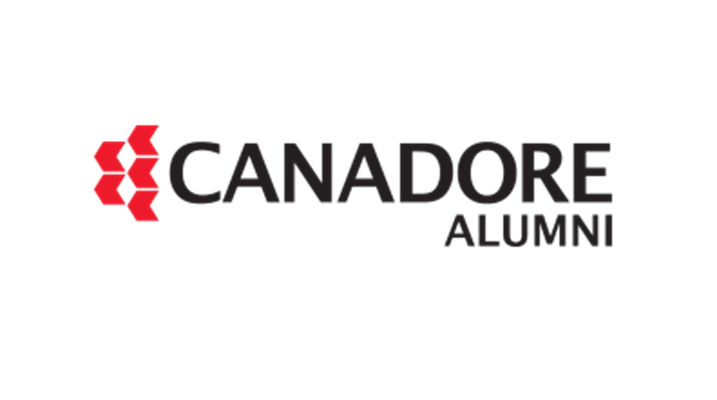 (NORTH BAY, ONT.) – Canadore College celebrated the strong friendships and shared history of its alumni at the 40th Annual Alumni and Friends Golf Tournament earlier this month.
"As a Canadore alumnus myself, I can tell you that some of my most influential relationships were established in our halls," said Canadore College president and CEO, George Burton. "I have the distinct pleasure of being able to maintain many of those associations, and reconnect with old friends as the College's president. We host this event, and others, so that more of our graduates can do the same."
Burton goes on to say the he feels it important to recognize the extent of the impact Canadore's alumni have on our economic and social well-being in Canada, which led the College to founding the Alumni Hall of Fame.
The inaugural inductees are Wendy Abdallah, Ted Hargreaves, Elina Katsman, Michael Kenney, Charles MacDonald, Peter Rowntree, Dave Saad, and Jacques Seguin.
Abdallah, a victim witness service worker through the Ministry of the Attorney General, is a graduate of Canadore's nursing program. Devoting her professional life to assessing and addressing the needs of victims and witnesses of crime, Abdallah has initiated and delivered a number of victim-focused training programs for police officers, investigators and professionals within the Ontario criminal justice system. An advocate for victims' rights, she has conducted presentations, workshops and conferences on issues in courts such as domestic violence, child abuse awareness and prevention, anti-bullying and non-consensual distribution of intimate images. Over the years she has volunteeredd with various non-profit community organizations such as the Mental Health Case Management Association of Ontario, the local AIDS committee, suicide network committee, food bank and Relay for Life.
Hargreaves is a graduate from Canadore's business administration program, a chartered professional accountant and recent retiree after serving as BDO's regional managing partner of the Atlantic Canada region. He has served as the chair of the ONTC, been the treasurer of the North Bay Food Bank and the Terry McCarrow CATSCAN Fund, and has acted as a member of the St. Joseph's Villa Foundation - Sudbury. He was the chair of North Bay General Hospital, chair of the Canadore College Board of Governors, vice-president of the Ontario Council of Regents and member of the Ontario Institute of Chartered Accountants. Hargreaves was also the recipient of the Premier's Award for Ontario College Graduates in the Business category in 1999.
As a graduate of Canadore's dental hygiene program and the president and founder of the Smile Foundation and Sonrisas, Katsman's many endeavours have provided services to over 4 million clients in the Dominican Republic. The Healthy Smiles project aims to deliver high-quality and mobile dental services to underprivileged children and adults in the Dominican, made possible by her own tireless efforts and the 150 active volunteers mobilizing operations for 15 clinics across the country. Katsman created the first dental hygiene program at the private Universidad Odontologica Dominicana in Santo Domingo and was the proud recipient of the Premier's Award for Ontario College Graduates in the Health category in 2013.
Kenney earned a diploma in Recreation Leadership from Canadore and spent over 30 years working with Xerox Canada in sales, product management and marketing while serving in various roles including director. While at Canadore, he was heavily involved in student government and proved himself to be a true leader among his peers. His community involvement includes serving as director of Snow Suit Fund of Ottawa and previously serving as a director of the Heart and Stroke Xerox Challenge. Kenney holds a Certificate in Public Administration from Carleton University. Kenney continues to actively support his alma mater, as a convocation speaker, a participant in numerous fundraising events and as a member of Canadore College's Board of Governors.
Rowntree, a graduate of the aircraft maintenance technician class of 1987, has participated in over 72 full technical investigations and literally thousands of transportation safety notifications. Over the course of his career with the Transportation Safety Board of Canada, he has been involved in the aftermath of most major air disasters in Canada, most notably the 1998 Swissair 111 tragedy that claimed 229 lives off the coast of Peggy's Cove, N.S. Rowntree works primarily in Ontario, but has travelled nationally and internationally as the official Canadian accredited representative for accidents involving Canadian-registered and –built aircraft, and Canadian citizens. He is very community-minded, and has donated his time and services to the 102 Squadron Royal Canadian Air Cadets, the Canadian Armed Forces Primary Reserve, the Iqaluit Volunteer Fire Department, Community Living Newmarket/Aurora District, and the National Ovarian Cancer Association. Rowntree received the Premier's Award for Ontario College Graduated in the Technology category in 2007.
MacDonald is an award-winning editor, producer and videographer. Since graduating from Canadore's television broadcasting program in 1983, he has built a richly-deserved reputation in the industry. After a 13-year career with CTV National News, MacDonald made the transition from the news field to documentary filmmaking. He is currently supervising editor/videographer with the National Geographic Channel, working out of their Washington, D.C. headquarters. His current position takes MacDonald around the globe as part of a production team and has travelled to every continent except for Antarctica.
Upon graduating from Canadore College in 1972, Saad became employed with the City of North Bay parks and recreation department and retired in 2001 as the manager of tourism and recreation. During his career he was known as a hands-on leader becoming directly involved in a myriad of community, provincial and national events and organizations. He has been publicly recognized for his efforts, having been inducted into the North Bay Sports Hall of Fame; selected as the 2007 Citizen of the Year; and having received the Davedi Club Order of Merit for community contribution. Saad is a proud member of Canadore College's Board of Governors.
Seguin is the senior vice-president of strategic planning and process development at Manitowoc and a graduate of Canadore College's business administration program. With a long-standing career at The Garland Group, Seguin worked from an entry-level sales role through administration and management to assume leadership of the US$175 million foodservice company as the president and general manager, a position that he held for 13 years. His passion and leadership have achieved three industry-leading U.S. National Restaurant Association Innovation Awards within a 12-month period, and his team was the first in their field to win the Canadian Food Service and Hospitality Pinnacle Award. Seguin is a director and past chair of the Board of the Canadian Hospitality Foundation, and a fellow of the Ontario Hostelry Institute. He is also a current member of Canadore College's Professional Advisory Committee for its School of Culinary Arts.
"Our graduates bring increased potential and capacity to communities around the world," said Burton. "We're incredibly proud of them and are honoured that they have not forgotten their roots."
This year, the Dean McCubbin Legacy Award was also introduced. It will be awarded to an outstanding individual (not necessarily an alumnus) who has made a significant contribution to Canadore College by supporting the institution's foundational pillars: student success; program and service excellence; innovation; connection to community; and sustainability. The recipient will also demonstrate the qualities of Dean McCubbin, the founder of Canadore's recreation leadership program, and former dean of student services, including leadership, mentorship, compassion and professional excellence.
This year, the posthumous award was given to McCubbin's wife, Alma McCubbin.
Approximately 130 golfers took part in the 40th Annual Alumni and Friends Golf Tournament at Osprey Links Golf Course and the first annual Hall of Fame Dinner was served to a full house at the Clarion Pinewood Park Resort.
Canadore trains people through applied learning, leadership and innovation. It provides access to over 65 full-time quality programs and has outstanding faculty and student services. The College and its students add nearly $290 million to the regions of Nipissing and Parry Sound. Approximately 1,000 students graduate from Canadore each year, and they join 43,000 alumni working across the globe.

---
---