All Stories
Canadore College Digital Cinematography Students win National Recognition
Aug 4, 2021 | Cindy Males, Public Relations and Communications Specialist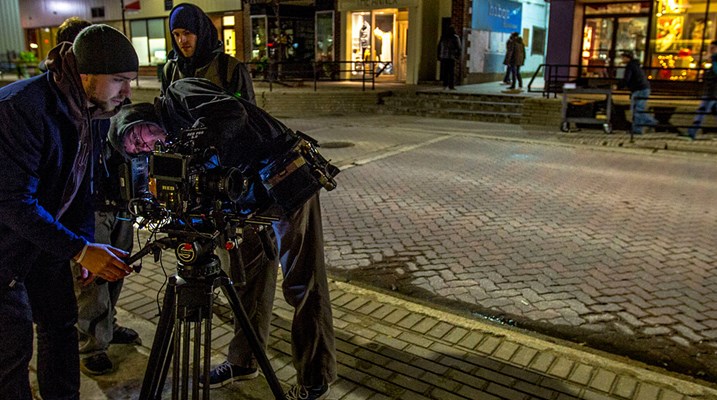 Canadore College Digital Cinematography students have been recognized as the Best in Canada by the Canadian Media Educators (CME) in the 2021 CME National Student Awards announced in late July.
Producer Nicolas Mackenzie and Writer/Director Spencer Hetherington received the 2021 Award of Excellence in the Video Long Drama or Comedy category for the 18-minute thriller The Valravn. Based on Viking folklore, The Valravn was made by the third-year graduating cohort as a class project and featured local acting talent Josh Bainbridge, Stephanie Kast, Sebastien Godin and Nancy Thompson. It was shot on the same camera being used by James Cameron in the making of the new Avatar series.
"This film was the result of hard work and determination," said MacKenzie. "It was only possible because of all the great cast and crew we worked with. It is truly an honor to accept this award."
"It was a fairly ambitious project to begin with, and the COVID-19 restrictions in place at the time were an added complexity," said Hetherington, who added he was grateful Canadore provided such an amazing opportunity and resources and that the film made it through to completion.
"It's certainly an honour for the film to be recognized by the Canadian Media Educators. Everyone involved worked very hard to bring the film to life, and I'm grateful for that," Hetherington said.
Hetherington also received the Award of Excellence in the Video Short Drama or Comedy for writing, directing and editing The Day the Embers Burned Cold, his 9-minute second-year auteur film. Embers dealt with the sensitive phenomenon of school shootings in a uniquely thoughtful, provocative, and nuanced way.
"I wanted to take a risk creatively and go outside of my comfort zone," said Hetherington. "I took the opportunity to make a film that was different from what I was used to, something that tackled a larger issue. I heavily debated whether or not to make it as the subject matter is sensitive and I wanted to make sure I was able to navigate it properly."
Student Director Darren Commanda and student producer Graeme Sinclair also received an Honourable Mention in the Video Short Drama or Comedy Category on behalf of their third-year class dramatic film The Trees Have Ears.
"This is a great example of what we do at Canadore – we give students the essential skills so they can rise to the level required by the workforce," said Yura Monestime, Director, Academic Operations and Business Development, Art and Design. "Congratulations to all the students involved for a job well done and a thank you to all the professors in the program who taught the students the skills to be able to tell these stories."
"It's always nice to see the amazing work our students are doing receive recognition. It is even better to be able to say they made the best student film in all of Canada," said Digital Cinematography professor Dave Clement who was the production mentor for Valravn. "It's a highly technical, fast-paced program, and making any film requires an unbelievable amount of effort."
"This sweep of all of the dramatic production awards at the CME proves that our graduates can go toe-to-toe with the best in the country and come out on top. This was done during a pandemic, no less. In fact, all 115 films made by Canadore students this past year involved strict restrictions including shooting outdoors in all weather conditions," said Clement.
The Canadian Media Educators is a national organization dedicated to promoting the professional development of faculty and administrators in radio, television, film, broadcast journalism, and new media in provincially-accredited colleges and universities. The CME National Student Awards Progam recognizes the unique combination of creativity and technical excellence demonstrated by students in CME member institutions.
The student films can be viewed here:
The Day The Embers Burned Cold https://vimeo.com/417189175
The Valravn https://vimeo.com/551547675
The Trees Have Ears https://vimeo.com/551979353
Viewer discretion is strongly advised; the films contain scenes that may be disturbing to some viewers.
-30-
Canadore College trains people through applied learning, leadership and innovation. It provides access to over 80 full-time quality programs, has outstanding faculty and provides success services to students from nearly 400 Canadian communities and 15 international countries. The College, its students, and alumni add $369 million to the Nipissing Parry Sound service area economy. Approximately 1,000 students graduate from Canadore each year, and they join 47,000 alumni working across the globe. Canadore receives less than 50 per cent of its traditional funding from the provincial Ministry of Colleges and Universities and relies on its own innovation and entrepreneurial endeavours and generous donors for the balance.
For more information contact:
Cindy Males
Public Relations and Communications Specialist
705-475-2538
cindy.males@canadorecollege.ca
---
---