All Stories
Canadore College Gearing Up for a Student Invasion
Aug 31, 2017 | Canadore College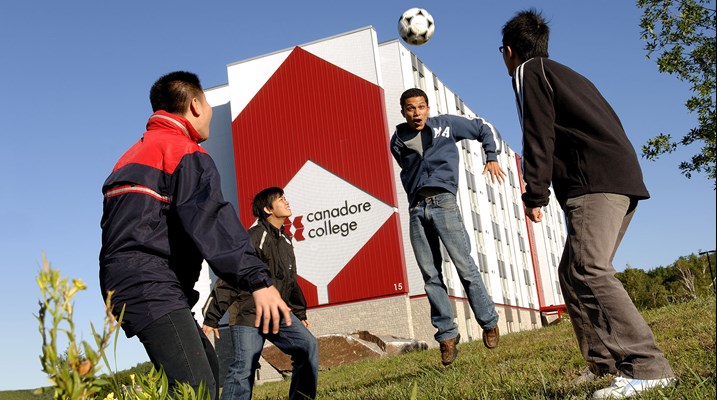 (NORTH BAY, ONT.) – Canadore College is ready to roll up the summer months and welcome an influx of students from nearly 400 Canadian communities and 15 international countries to campus.
The College is expecting a four per cent growth in Indigenous, domestic and international student attendance for the fall semester.
Approximately 110 students moved into residence this week and have taken part in early orientation featuring a host of information sessions, including cooking classes, sexual consent awareness, tours and health-related activities. Another 310 learners will be moving into residence over the Labour Day weekend. This year marks residence's highest ever international student occupancy.
"Our whole team is remarkably enthusiastic and excited to be welcoming back our students," said George Burton, President and CEO of Canadore College. "Everyone has been planning diligently on meaningful ways to support our students on their individual paths."
This week, the College hosted its 11th Summer Transition program, developed to help students with identified learning disabilities ease anxieties, reduce barriers, bolster self-assurance and support a positive transition into college life for greater success.
Canadore Students' Council (CSC) has scheduled a comprehensive Cirque du Frosh Week aimed at helping students find confidence in their new surroundings and create positive peer support networks. More than 300 students have signed up for carnival- and Olympic-themed games, meal, trivia, CSC Presents Letterkenny, and more. The student body will also be hosting its annual Shinerama fundraiser for Cystic Fibrosis on September 9 at various locations across the city.
"I worked at Canadore over the summer where I had the opportunity to work in a position related to my field," said Trevor Beard, second-year advertising and marketing communications student. "It was very rewarding and I'm headed back to class knowing that I'm in the right field, and with a new appreciation for how much Canadore cares for every student and their success."
Classes officially begin on Tuesday, September 5.
Canadore trains people through applied learning, leadership and innovation. It provides access to over 75 full-time quality programs and has outstanding faculty and student services. The College and its students add nearly $290 million to the regions of Nipissing and Parry Sound. Approximately 1,000 students graduate from Canadore each year, and they join 44,000 alumni working across the globe.
For more information, please contact: Jessica Charette at 705.475.2538 or jessica.charette@canadorecollege.ca; Carrie Richmond at 705.474.7600, ext. 5216 or carrie.richmond@canadorecollege.ca
#Aboriginal #Admissions #Canadore Students' Council #College Drive #Comm Justice #Commerce #General #International #Profile #Recruitment #Residence #Student Life
---
---