All Stories
Canadore College Graduates to Cross the Stage
Sep 27, 2018 | Canadore College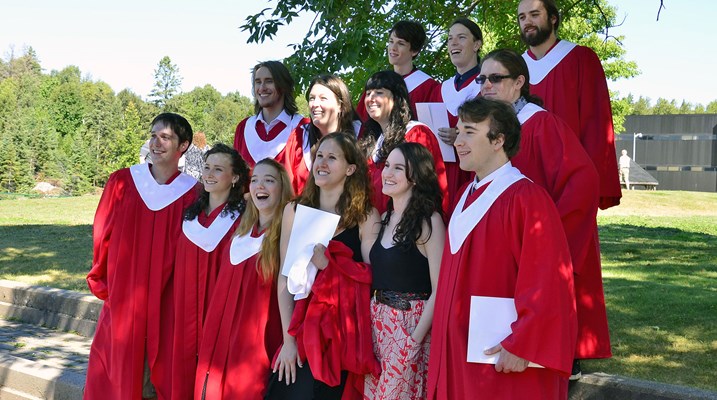 (NORTH BAY, ONT.) -- Canadore College is hosting Convocation Ceremonies for its Schools of Access, Language and Preparatory Studies; Business and Management; Health, Human Care and Wellness; Media, Design and Dramatic Arts; Sport and Recreation; and Trades and Technology on September 28.
Guest speaker, Al McDonald, mayor of the City of North Bay, will be speaking to nearly 200 graduates and their families.
Born in France, and with a father in the Canadian Armed Forces, McDonald moved to many different communities as a young boy. Once established in North Bay, the successful entrepreneur at heart served the region as parliamentary assistant to the Minister of Enterprise, as member of provincial parliament, as deputy mayor. McDonald is passionate about volunteering, and in this capacity has served as president of the North Bay and District Chamber of Commerce and the North Bay Humane Society; chair of the North Bay Heritage Festival, 'Save the Cents' and 'Save the Ski Hill' committees; chair and founder of the 'North Bay Walk of Fame' and founder of Lacrosse North Bay. He and his wife Wendy count themselves fortunate to call North Bay 'home.'
Canadore College is very proud of its graduates for their accomplishments and for achieving their education goals. Each year, approximately 1,000 students graduate from the College, joining a network of 45,000 alumni working across the globe.
Delegates from the Limerick Institute of Technology, Canadore's program articulation partners from Ireland, will also be in attendance.
Canadore's convocation ceremonies are also being live streamed on YourTV North Bay on Channels 12, and 700 and Canadore's Facebook page.
Canadore College trains people through applied learning, leadership and innovation. It provides access to over 75 full-time quality programs and has outstanding faculty and provides success services to students from nearly 400 Canadian communities and 15 international countries. The College and its students add nearly $244 million to Nipissing Parry Sound Service Area economy. Approximately 1,000 students graduate from Canadore each year, and they join 45,000 alumni working across the globe. Canadore receives less than 50 per cent of its traditional funding from the provincial Ministry of Training, Colleges and Universities and relies on its own innovation and entrepreneurial endeavors and generous donors for the balance.
For more information, please contact: Jessica Charette at 705.475.2538 or jessica.charette@canadorecollege.ca; Carrie Richmond at 705.474.7600, ext. 5216 or carrie.richmond@canadorecollege.ca
#College Drive #Comm Justice #Credit Transfer Pathways #Employer Services #Events #General #Health, Human, Wellness #Language and Prep #Media #New #Profile #Programs #Sport and Rec #Theatre #Trades and Tech
---
---