All Stories
Canadore College holds its first ever Round Dance
Jan 21, 2020 | Cindy Males, Public Relations and Communications Specialist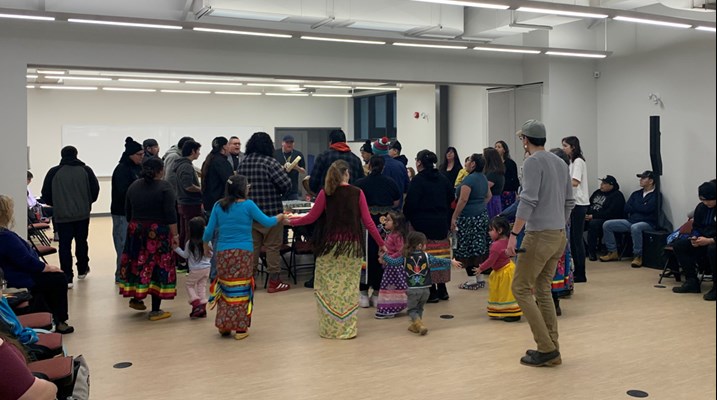 The Round Dance is one of the oldest ceremonies in Indigenous culture. Its purpose is to honour those who have passed on. Throughout the gathering, many different songs are shared by many different singers.
"When we dance together to each song, our ancestors are dancing with us, says Nathalie Restoule, who coordinated the first Round Dance ever held in The Village at Canadore College, on Saturday, January 18, 2020. The Gathering began with a feast in the afternoon and the dance continued until very early Sunday morning.
The Round Dance is just one of several events hosted this year by the Indigenous Physical Wellness Program, thanks to a $149,858 grant from the Canada Institutes of Health Research (CIHR). The purpose of the project is to develop a physical activity and wellness model for Indigenous post-secondary learners and their families that is based on cultural and land-based activities.
"This Round Dance is significant because it highlights every aspect that we have been offering to students, and allows time for us to come together and celebrate," says Restoule. "Not only are we now able to celebrate with previous participants, but also allowing other students, families and communities to come and see what we are all about and what we have to offer here at Canadore."
Restoule hopes the Round Dance will become an annual event. "With some of our research findings, many of our participants have noted that events like this make them feel at home."
For more information on Indigenous Education please contact: Mary Wabano, First Peoples' Centre/Indigenous Studies Director/Associate Dean at 705.474.7600 x5967 or Mary.Wabano@canadorecollege.ca
#Aboriginal #College Drive #First Peoples' Centre #General #Indigenous Studies #The Village #George Burton #Canadore College #North Bay
---
---