All Stories
Canadore College hosts its third Pathways Fair
Feb 7, 2020 | Cindy Males, Public Relations and Communications Specialist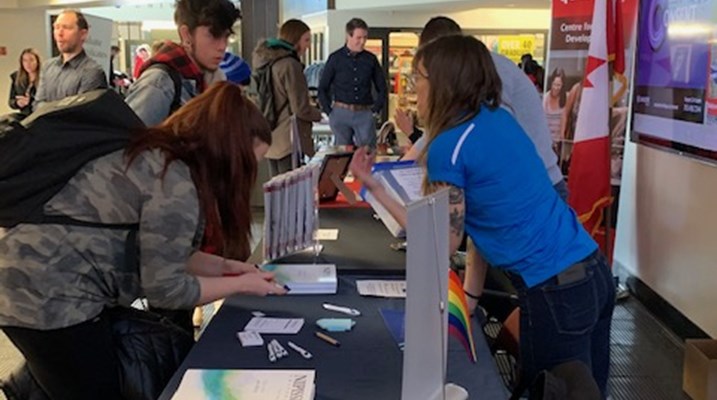 An education at Canadore College is the first step towards a successful career, but it doesn't have to stop at graduation. That certificate or diploma could lead to further educational opportunities in North Bay, across Ontario and Canada, and around the world.
"The idea of days past where you did two years of college and then you did four years of university-we're trying to cut that down," says Canadore's Pathways Officer Jonathan Cranston. "So that in four years you have a college diploma with that great practical, hands on, on-the-ground learning, backed up with that degree teaching, that other level of learning, making the learners, when they're hitting whatever workforce, the best they can be."
"Whether it's pathways within our four walls, our borders or globally, it's allowing the students opportunities to build on their learning," says Cranston.
On Wednesday, Canadore College hosted the third educational Pathways Fair for students and graduates to learn how to best position themselves for career success in their chosen field of study. The event was co-hosted with Nipissing University.
Canadore College has many articulation and credit transfer agreements with post-secondary institutions provincially, nationally and internationally. Each agreement defines admission requirements with the recognition of credits earned through Canadore's certificate or diploma programs.
Second year Canadore Business student Curtis Tilbury says he's on a pathway that will take him to university.
"Just having the chance to learn hands-on, but still be able to complete an academic degree, which is what is going to help me get executive positions in my future, that's really important to me," he says.
Sean McCullagh is currently enrolled in Canadore's School of Sport and Recreation. McCullagh is on an education pathway that's brought him from the Limerick Institute of Technology in Ireland, all the way to North Bay. It's giving him a different educational experience
"I'd say it's more practical, more hands on. I'm in Strength and [Sport] Conditioning, and it's much more like actually coaching athletes. So it's good in that way, developing your coaching skills," McCullagh says.
He and classmate Jamie McElvaney, also from Ireland, will complete this school year in Canada and then return to Ireland to finish the third year of school, at home.
"I've coached it, learned it and I think bringing that experience home is going to benefit me," says McElvaney.
The Pathways Fair exhibitors included colleges and universities from Ontario, Canada and around the world, as well as a resource centre for studies in Australia, the United Kingdom and Ireland.
#Admissions #College Drive #Credit Transfer Pathways #Events
---
---