All Stories
Canadore College Included in International SDG Accord Progress Report
Aug 3, 2022 | Cindy Males, Public Relations and Communications Specialist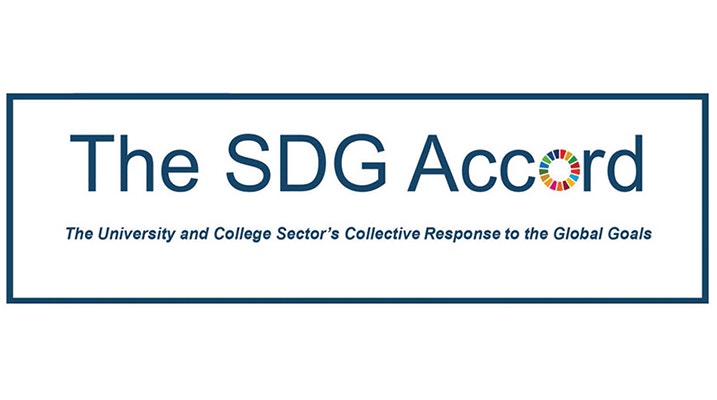 In February 2022, Canadore College signed onto the United Nations Sustainable Development Accord in support of its 17 Sustainable Development Goals (SDG). More recently the College filed its first annual SDG report, and has been included as a case study in the international SDG Accord Progress Report.
"Canadore College is a destination of choice for people from around the world and the SDG Accord provides a backdrop against which we can make the College a safe and welcoming place for all students, employees, visitors and guests," said Shawn Chorney, Vice President, Strategic Infrastructure, Indigenous and Learner Services. "The SDGs go well beyond environmental sustainability and we believe that, when we achieve significant progress on all fronts, we will begin to realize the full potential of the College as a community of people with shared goals."
In 2015, the United Nations General Assembly set the 17 goals aimed at ending poverty and setting the world on a path of peace, prosperity and opportunity by 2030. Canadore College joins 289 post-secondary signatories from around the world, 30 in Canada, dedicated to embedding the SDGs in their operations.
Through its Sustainable Development Task Force, the College has committed to consider the SDGs in research, campus operations, and curriculum development. "Submitting the report was a great first step", said Jesse Russell, Sustainable Development Project Leader. "The information gathered from institutions around the world will paint a picture of where things stand and where growth is possible. "
Canadore believes post-secondary institutions play a vital role in the communities they serve, and it is leading by example when it comes to sustainability.
"As a post-secondary institution it is our duty to be leaders in the communities we serve so we hope that the case study will provide inspiration to other institutions and communities. We look forward to submitting many more reports en route to our goal of becoming carbon neutral by 2031," said Russell.
All of the submitted case studies, including Canadore's, can be found here.
---
---