All Stories
Canadore College investing in infrastructure at all campuses
Jun 25, 2021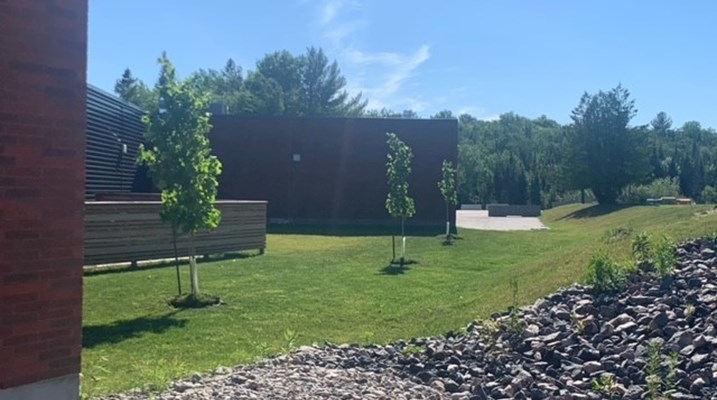 Canadore is investing close to $5 million in more than a dozen projects, big and small, at all four Canadore campuses. The work is already under way, and some of the projects will continue into the fall semester as the College makes strategic investments to support program growth, human-centric spaces and a safe return to campus.
Facility Updates
The main entrance at the Education Centre Campus is undergoing the largest transformation. Canadore's main entrance, now called Alumni Hall, will become a multipurpose, multifunctioning venue for student life, academic, alumni, and community-based activities. This new space will support Canadore's evolving programs and services and provide a first class gathering space for the college community to come together to enjoy live theatre, concerts, guest speakers and other community building activities. Theatre Arts students will have a new space to learn and refine their craft, and students in the Recording Engineering – Music Production and the Digital Cinematography programs will have ample space that meets industry standards. The space also supports the College's e-sports program that will bring to life many elements of this growing field.
"This new space will include some of the most advanced technology, reflecting the 21st century learning environment and enabling Canadore to be more responsive and proactive " said Canadore President and CEO George Burton. "The hybrid space will be able to host classes, events and gatherings that can be recorded or televised live. The multifunctional aspect of the space will allow the transition from a 140-seat theatre to a grand hall, to virtual collaborative space capable of hosting e-sports, interactive learning activities and conferences that can easily be streamed to audiences around the world."
Supporting the College's hybrid approach to program and service delivery the Canadore Active Learning classroom is being created. The 1500 sq. ft. room will house some of the most advanced technologies supporting the delivery of programs. This classroom will become a playground for technology and will ensure that those who are learning face-to-face or in a hybrid format will have a completely immersive and student-centered experience.
Other projects include:
Major renovations to science labs (B Wing) and expansion of the applied research area at the Education Centre Campus;
Creation of office space geared towards post-pandemic office access on-campus;
Updated Student Services and Resource Center at the Aviation Campus;
Expansion of the electrical lab at the Commerce Court Campus to support expanding apprenticeship programming; and
Updates to labs and classrooms at the West Parry Sound Campus.
"Greenification"
Changes will be noticeable even before people enter the campus buildings, as Canadore undertakes several "greenification" initiatives.
New trees will be planted and old trees removed at the Education Centre Campus. Landscape updates at The Village will also be completed, and plans are in the works for orchards to be planted at the lower residences, with new landscaping and cultural supports being placed at the West Parry Sound Campus.
"The campus locations are all unique and speak to our landscape, sense of place, and school pride," said Shawn Chorney, Vice-President Strategic Infrastructure, Indigenous and Learner Services. "Our foundational efforts today will build on a strong foundation and move us closer to carbon neutrality by 2031. We are creating spaces for our community, both inside and outside."
A new railing for the dam access bridge will be installed, updated signage is going up on the on-campus trail network, and parking lot lighting will be retrofitted. The College will be engaging its new Sustainability Task Force on these initiatives including in a focus to become even more connected to our community.
Facilities Upgrades
Several projects will not be visible such as upgrades to HVAC and electrical distribution systems to reduce our carbon footprint, and new security upgrades to keep our campuses safe.
The College is also implementing substantial upgrades to its IT infrastructure to include faster internet speeds, more secure operating environments, and an ability to integrate additional technology into its campuses to be accessible in person and remotely. The focus on program growth is future facing as the College prepares to grow, thrive and sustain contemporary programming and services.
---
---