All Stories
Canadore College moves ahead with construction of a Multi-use Recreation Facility
Jun 16, 2022 | Cindy Males, Public Relations and Communications Specialist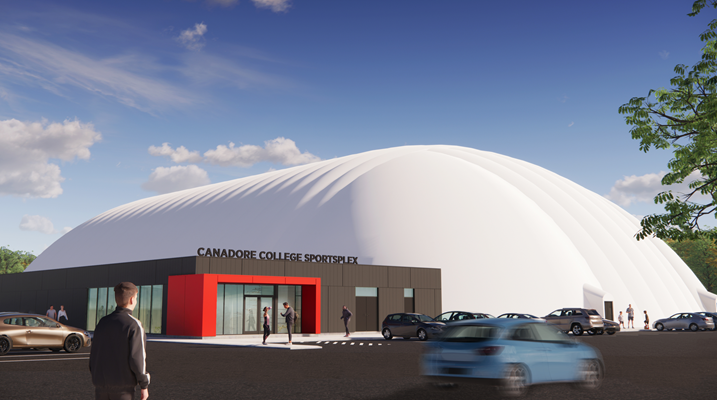 Canadore College is deliberately and actively expanding its academic program, recreation service and sport and wellness delivery capacity through the construction of a Multi-Use Recreation Facility on the Commerce Court Campus – a facility that will be open to the community and will build athletic capacity and tourism in the region.
"The proposed facility is a cornerstone of the ongoing Commerce Court Campus redevelopment plan," said Shawn Chorney, Vice President Strategic Infrastructure, Indigenous and Learner Services. "It unlocks the potential for the expansion of other programs and services at the Commerce Court Campus while creating a new home for the College's School of Sport and Recreation."
The Canadore Multi-Use Recreation Facility will be an 85,000 square foot dome supporting year-round soccer, golf, baseball, basketball, tennis, volleyball, dry land training, and sport conditioning. The facility has been designed in consultation with community user groups and is rooted in a long-standing need for covered turf and hard court surfaces.
Additionally, there will be a 6,200 square foot clubhouse attached, complete with change rooms, reception and dedicated instructional/meeting space.
"The facility will also provide a foundation for an expansion of varsity and recreational sports for all ages, and is envisioned as a community recreation hub to build off of other regional sports initiatives," said George Burton, President and CEO. "The facility will feature artificial turf, hard court and a myriad of other features to support maximum usability and community-facing support."
"The College is proud to lead this multi-million dollar investment to support both our evolving academic, sport and wellness needs while doing our part to support the broader sport ecosystem of the region," said Burton.
The estimated cost of the proposed sports complex is $8,565,000. The complex will create additional opportunities for the College and the region and can double as the largest event space in the area to help attract sport and other tourism to the region. Canadore anticipates the facility will be open by September 2023.
"From a student perspective, I'm very excited about this recreational dome project. This new project will be a wonderful addition to the College," said Alex Mathew, President of Canadore Student Council. "This new structure will allow individuals to focus on their physical health and wellbeing. On behalf of all the students, I would like to thank Canadore College for initiating this substantial project which will benefit the community as a whole."
#Athletics, Rec, Wellness #Canadore Students' Council #Corporate Communications #Events #Sport and Rec #Student Life #Student Success Services #Sport and Wellness #sustainability
---
---