All Stories
Canadore College nominates three outstanding alumni for Premier's Awards
Nov 9, 2021 | Cindy Males, Public Relations and Communications Specialist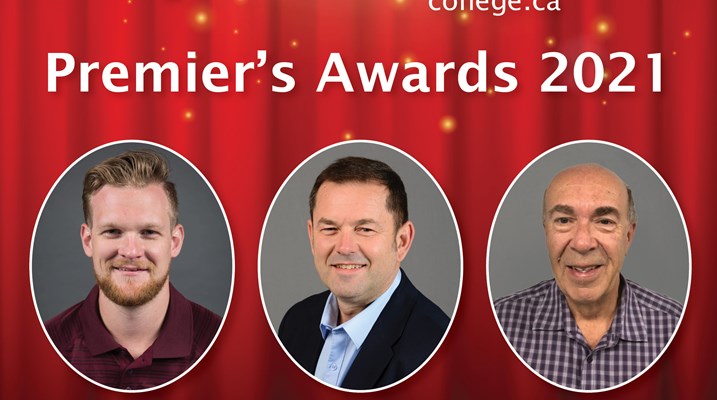 Canadore College has nominated three alumni – Evan Brownrigg, Robert Gilbert and Jeff Kendrick - for the annual Colleges Ontario Premier's Awards.
"We are proud of our Canadore Alumni, and we are very excited to recognize Evan, Robert and Jeff in this special way," said Canadore President and CEO George Burton. "All three have risen to the top of their chosen fields and are wonderful examples of how a college education -- a Canadore College education -- is a solid foundation for future success."
"On behalf of the Canadore Alumni executive and members we extend our congratulations to Evan, Robert and Jeff for their nominations to the Premier's Awards for Ontario College Graduates," said Nicole Bamford, Canadore Alumni President. "We are thrilled to have these three outstanding individuals as part of our Canadore Alumni community, doing amazing things in their chosen professions. To Evan, Robert, Jeff and all the other nominees, congratulations!"
The Premier's Awards were launched in 1992 to mark the 25th anniversary of Ontario colleges and to honour outstanding college graduates from the 24 public colleges. The awards are presented in seven categories – Apprenticeship, Business, Community Services, Creative Arts and Design, Health Sciences, Recent Graduate, and Technology. Five Canadore College alumni have been recognized as award recipients since 1999.
Evan Brownrigg graduated from the Recreation and Leisure Services program in 2014 and, as the Chief Operating Officer and Director of Player Development at Next Generation HKY (NGH), he's helping to train more than 7,500 athletes every year. The opportunity to motivate and mentor individuals as they achieve their goals and dreams has become his favourite and most rewarding part of the job. Brownrigg has also worked as a development coach with various associations and elite pro, collegiate and junior players, including dozens of NHL-ers. Eight of his junior athletes were drafted to the NHL in 2020; four were selected in the first round. Brownrigg has been nominated in the Community Services Award category.
Robert Gilbert graduated from Canadore's Environmental Biology Technologist program in 1987. For more than 30 years, Robert has worked with market leaders in laboratory analytical services, successfully introducing innovative technologies, processes, and solutions across multiple sectors, including materials testing, and the environmental and geotechnical industries. He is now the President and CEO of Metro Testing + Engineering, in British Columbia. By the end of 2021, Metro Testing + Engineering is on track to become the first laboratory in the industry to fully automate compressive strength testing. Robert has been nominated in the Technology category.
Jeff Kendrick is a graduate of Canadore's Business program, class of 1982. Jeff is the Founder, President and CEO of CEMATRIX Corporation. Jeff's leadership has helped his Calgary company grow to become North America's largest cellular concrete manufacturer and supplier, providing customers with lighter, stronger, more cost effective and environmentally friendly solutions. The company survived the financial crisis of 2008 and two crashes in the oil and gas construction markets to go on and complete hundreds of successful projects from Alaska to Louisiana and Vancouver Island to Nova Scotia. In 2018 and 2019 Jeff led the acquisition of two of their four leading competitors in the United States. For each of the last two years, CEMATRIX has been recognized as a Top 50 TSX Venture Company, and has raised more than $28 million in the capital markets despite the COVID-19 pandemic and its impact on the construction industry. Jeff has been nominated in the Business category.
---
---