All Stories
Canadore College nominates two outstanding alumni for Premier's Awards
Nov 10, 2022 | Cindy Males, Public Relations and Communications Specialist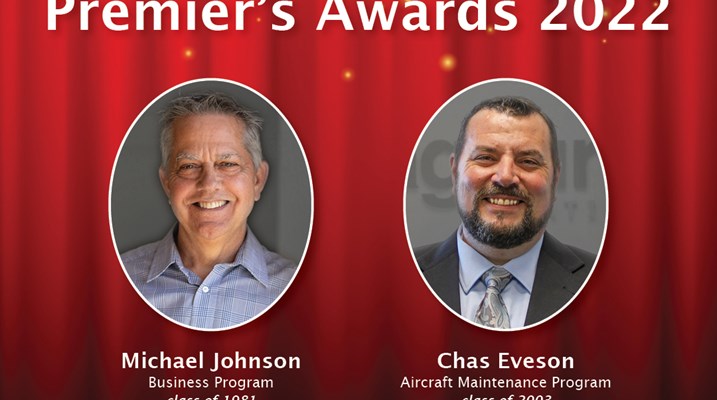 Canadore College has nominated two of its exceptional alumni, Chas Eveson and Michael (Mike) Johnson, for the annual Colleges Ontario Premier's Awards.
"On behalf of the Canadore Alumni Board, I congratulate Chas and Mike on their nominations to the Premier's Awards for Ontario College graduates," said Brad Gavan, Director of the ICAMP, Corporate, Community, and Alumni Partnership. "We are thrilled to have these two outstanding individuals as part of our Canadore Alumni community. "
"Canadore is proud of all our alumni, and we are looking forward to formally recognizing Chas and Mike," said President and CEO George Burton. "Both have enjoyed successful careers in their chosen fields, and they are great examples of what can be accomplished from getting their start at Canadore College."
The Premier's Awards were launched in 1992 to mark the 25th anniversary of Ontario colleges and to honour outstanding graduates. The awards are presented in seven categories – Apprenticeship, Business, Community Services, Creative Arts and Design, Health Sciences, Recent Graduate, and Technology. Five Canadore College alumni have been recognized as award recipients since 1999.
Chas Eveson graduated from the Aircraft Maintenance program at Canadore College in 2003. He is now the Vice President of Maintenance and Engineering at Voyageur Aviation Group in North Bay. During his career progression, Chas has obtained Aircraft Certification Authority on nine different types of aircraft as well as being recognized by Transport Canada as a Minister's Delegate – Maintenance (MD-M). That prestigious designation is held by only 95 individuals (other than Civil Aviation Safety Inspectors) across the Canadian private aviation sector who are qualified to issue Certificates of Airworthiness on behalf of the Minister. Chas Eveson is nominated in the Technology category.
Michael (Mike) Johnson graduated from the Business program in 1981. He began his career in Ottawa before returning to his hometown in 1988 and eventually taking over ownership of the local Cooperators Insurance Agency in 1994. Over the years, Mike's career success has allowed him to offer volunteer support to many non-profit organizations. Mike and his wife Kelly became involved with International Children's Awareness (ICA), a Canadian-registered non-governmental organization that works with countries to ensure sustainable development solutions in education, water and sanitation, and income generation. In 2017, he assumed the Chair of ICA. Most recently, Mike has been involved with Nipissing Serenity Hospice. Mike has recently turned his attention to working behind the scenes with Everest Solutions, a provider of innovative digital imaging services and products for school communities. Mike Johnson is nominated in the Business category.
The 2022 Premier's Awards presentation will be held on Monday, November 28, 2022.
---
---