All Stories
Canadore College Opens New Engineering Technology Lab
Mar 30, 2017 | Canadore College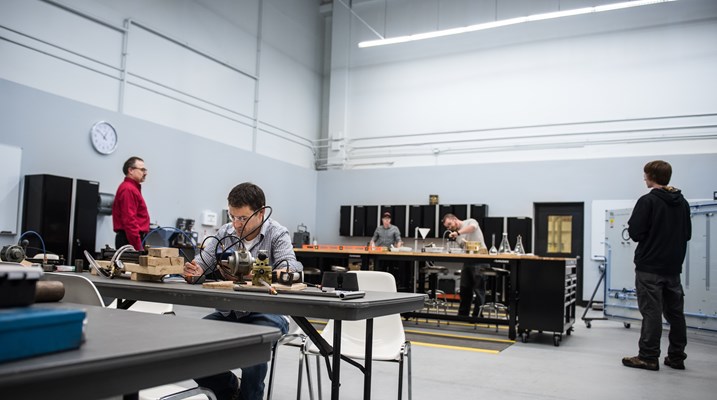 (NORTH BAY, ONT.) – Canadore College engineering students have a brand new lab to apply their skills and knowledge.
Over the last six months, the College has been building a state of the art lab at its Commerce Court Campus to provide hands-on training for civil engineering technician/technology and mechanical engineering technician/technology students. With a price tag of nearly $100,000 and at 1,850 square feet, the lab more than doubles applied learning space and features new instructional aids.
"Fully equipped labs like this provide students with the opportunity to apply their in-class learning to real-life projects," said Caroline Corbett, Associate Dean of School of Trades and Technology. "Learners can practice skills and develop competency while using the same equipment and processes as those used in industry. These applied learning experiences result in deeper understanding and strengthen skill development for our students."
The modular lab space houses a range of industry-standard equipment, including a fluid mechanics base unit, large air compressor and electrical motor teaching units, digital force gauges, digital electric current meters and more. These resources allow for a variety of cross-functional, collaborative and experiential learning assignments between programs. In fact, students from the building construction program helped to repair damage, frame, drywall and carry out general labour in the new space.
"When I first came to Canadore, we had to make do with a much smaller space, making it more difficult to apply the theory we were learning in class," said Cory Wigle, second-year mechanical engineering student. "Canadore has done an amazing job outfitting the new facility to meet our needs as students and I'm very happy and grateful for the quality of education that I'm receiving."
According to the Engineering Canada report, Engineering Labour Market in Canada: Projections to 2025, the industry is projecting a large amount of retirements within the sector, creating a very strong demand for civil and mechanical engineers within the workplace in the next decade.
The new lab can be seen at Canadore College's Open House, being held this Saturday, and program advisory committee will be invited to a ribbon cutting next week.
About Canadore College's program advisory committees:
The Ministry of Advanced Education and Skills Development requires an advisory committee for each college program, or related program cluster, to ensure curriculum quality, student and graduate success. Committee members are an external selection of exceptional leaders in their fields with a diversity of program-related experience and expertise. Program advisors identify current and future industry trends and shifts in the skills and knowledge graduates need to meet employer requirements, which helps to ensure that programs are current and relevant to industry, business and society.
Canadore trains people through applied learning, leadership and innovation. It provides access to over 65 full-time quality programs and has outstanding faculty and student services. The College and its students add nearly $290 million to the regions of Nipissing and Parry Sound. Approximately 1,000 students graduate from Canadore each year, and they join 43,000 alumni working across the globe.
---
---