All Stories
Canadore College Partners with North Bay Food Bank to Fight Hunger
Sep 5, 2018 | Canadore College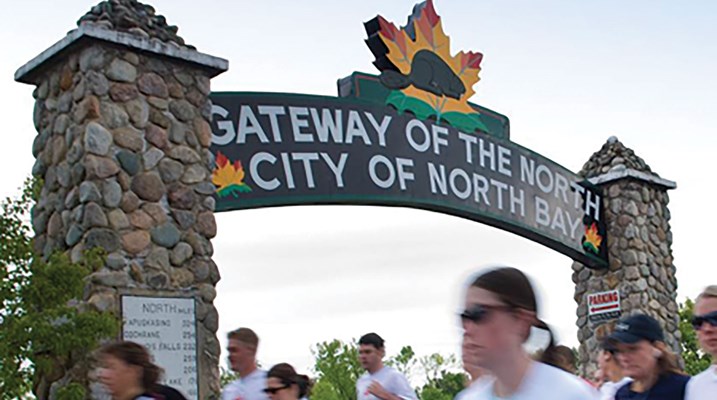 (NORTH BAY, ONT.) – Today, Canadore College launched an initiative to support the North Bay Food Bank's Community Resilience project.
Through the partnership, food collection bins will be placed prominently throughout the college's North Bay campuses in an effort to encourage non-perishable food donations. The contents of each box will be equally split between the North Bay Food Bank and the Canadore College Emergency Student Food Bank.
"The sad truth of the matter is that more than 40 per cent of postsecondary students are food insecure," said Shawn Chorney, vice-president of enrolment management, Indigenous and student services. "Undernourished or malnourished students are more stressed overall and have a more difficult time with their academic studies."
Canadore College founded its student food bank in the early 2000's. Chorney said that its use has increased exponentially in the last few years and that it is only one of the approaches the college takes to helping students overcome financial duress. In addition to emergency loans, Canadore College is placing additional focus on helping students connect to part-time job opportunities on campus with 80 paid positions and within the community with more than 40 committed employers.
"The North Bay Food Bank launched the resiliency project last year, and we are grateful for the support we are receiving from community partners like Canadore," said Caroline Corbett, treasurer on the North Bay Food Bank board of directors. "It's really all about developing a habit of giving. After some research, we established the 'Just 1' campaign because if we all donated one food item every time we went grocery shopping, we could eliminate hunger in North Bay."
In 2017, more than 11,000 people were served at the North Bay Food Bank, including nearly 500 new faces. The organization collected 157,000+ pounds of non-perishable food items and another 25,000 pounds in grocery bin donations. For the same period, Canadore saw more than 300 students access 10,000 pounds of food through its dedicated resource, which the college spends at least $10K supporting annually.
Both food banks allow individuals to access food resources once a month, however there is no cross-reference in use.
The collection box at Canadore College is a unique sharing partnership, however any employers interested in taking part in the workplace collection bin campaign can contact the food bank.
Canadore College trains people through applied learning, leadership and innovation. It provides access to over 75 full-time quality programs and has outstanding faculty and provides success services to students from nearly 400 Canadian communities and 15 international countries. The College and its students add nearly $244 million to Nipissing Parry Sound Service Area economy. Approximately 1,000 students graduate from Canadore each year, and they join 45,000 alumni working across the globe. Canadore receives less than 50 per cent of its traditional funding from the provincial Ministry of Advanced Education and Skills Development and relies on its own innovation and entrepreneurial endeavors and generous donors for the balance.
For more information, please contact: Jessica Charette at 705.475.2538 or jessica.charette@canadorecollege.ca; Carrie Richmond at 705.474.7600, ext. 5216 or carrie.richmond@canadorecollege.
#Aviation and Aerospace #Collaboration #College Drive #Commerce #Corporate Communications #General #Access and Inclusion #New #Office of the President #Student Life #Student Success Services
---
---