All Stories
Canadore College Post Production students work with Montreal Filmmaker on latest project.
Apr 14, 2020 | Cindy Males, Public Relations and Communications Specialist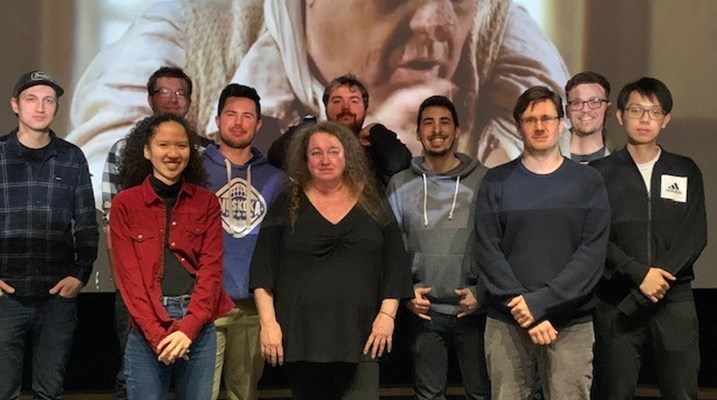 Montreal filmmaker Louise Lamarre turned to Canadore's Post Production students in order to bring to life her latest film Québec Fantastique: la légende du lieu-dit-de-l'arbre-sec.
"I shot this movie mostly in the studio, that was some kind of desert in terms of sound," said Lamarre. "So they have created absolutely everything. They have created the foley. They did all of the sound effects and they synched everything up."
Foley is a filmmaking term that means the reproduction of sound effects that are added to films, video, and other media in post production to enhance audio quality. And that's where the students came in. Foley got its name from Jack Foley, the sound effect artist who developed the technique.
"When she was saying there was no audio it was all in studio," said Post Production student Bradford Bourque. "The unique thing about this project is we did the sound design too."
Louise Lamarre is an independent filmmaker-researcher who directed her first film in 1980.
Since then, she has worked as a director, scriptwriter, and producer on more than 40 productions of all genres from fiction to documentary, music videos to advertising and corporate films and television series. And she is a film professor at Concordia University in Montreal.
"As a professor myself, I am really astonished by the quality of the space that you have here," said Lamarre. "These students are great. Their work was especially good."
Post Production at Canadore is a one-year certificate program, and the students already have educational or work experience in a related field such as television broadcasting or film studies. The students' involvement in this project helps them gain academic credits and a real post production credential.
"They get their first experience as post production sound artists, also from mixing dialogue, Foley, sound effects and music," said Post Production professor Stephane Calce. "What's really cool about that is they not only learn with that project, but they actually get a real professional experience to start their career."
"It's about networking. It's also about having hands-on experience," said Calce. "Walking into a room like this mix room and for them to know how it works, to have this experience, it just gives them that extra edge on others."
"This is a specialized program, there's a lot of things that you can learn and reach about, but practice really makes perfect," said student Bradford Bourque. "I am still learning, but I'm getting that much better, and a project like this really helps tie that all together."
#Collaboration #College Drive #Experiential Learning #Film #Media
---
---