All Stories
Canadore College preparing for Fall 2021 semester
Aug 18, 2021 | Cindy Males, Public Relations and Communications Specialist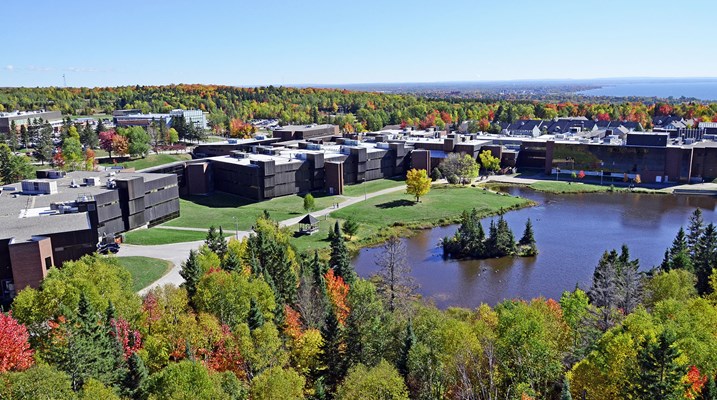 Orientation for the Fall 2021 semester is under way at Canadore College. For the second year, sessions are being held virtually until the official start of the school year in the first week of September.
"I believe it is important for students in their first year, even returning students, to participate in the orientation sessions," said Andrew Worley, a third-year Respiratory Therapy student who helped to design the orientation presentations. "The sessions will help provide new learning experiences and give students a chance to ask their questions in a safe environment."
This year's Holistic Orientation Mentoring Experience (HOME) will inform students about how Canadore will support their physical, social and personal success through virtual table talk sessions.
"This year our theme is Welcome HOME because we are doing just that – welcoming students to their home away from home," said Patricia Luciani, Academic Success Supervisor. "We are thrilled they have chosen Canadore to continue on their educational journey. We want to foster a sense of community and belonging."
"The HOME program recognizes that our college community is continuing to grow and evolve our approaches to learning and collaborating in spite of the challenges that we all face," said Shawn Chorney, Vice President Strategic Infrastructure, Indigenous and Learner Services. "Our team has centered the interactive orientation program on the human condition and our shared goals and struggles as we all look toward the future together."
The virtual table talk sessions will cover topics such as how to register, financial opportunities, BYOD (Bring Your Own Device) and technology supports, Sport and Wellness, the campus health centre, the First Peoples' Centre, and Access and Inclusion department programs.
"It is also important for us to focus on the holistic student experience. In order for students to attain academic success they need to care for their physical, emotional and mental well-being. Through our table talk sessions we are able to share all the wonderful resources students have access to that nurture the whole self," said Luciani.
COVID-19 is still a concern as the Fall semester approaches. Canadore will begin the school year with remote delivery of programs, where possible, and a hybrid of remote and on-campus learning where necessary. The College will transition back to in-person learning and service delivery as soon as public health and government guidelines allow. The table talk scheduled for Thursday, August 19, 2021, at 9 a.m. will focus on the safety protocols in place to promote the health and safety of Canadore students and employees.
"Our Safety Matters session will provide students, parents and caregivers an opportunity to learn about the measures Canadore is taking to ensure the safety of our students both on campus and in residence as well," said Luciani.
Worley will help lead the session aimed at sharing the student experience called Ask a Student Table Talk on Tuesday, August 31, 2021, at 9 a.m.
"We will talk with the students and answer their questions based on our own personal experiences," said Worley. "We are expecting a variety of questions about college life from how to speak to their teachers to how to manage their time."
"I think it will be a great experience for a lot of students who may be anxious with how this year will go. I know when I first went to college it was a scary thing. A lot of people say how hard it's going to be, but nobody ever really tells you how to make the experience more gratifying," said Worley.
For more information or to register, visit https://www.canadorecollege.ca/get-started/fall-2021-orientation
---
---