All Stories
Canadore College recognizes Moose Hide Campaign Day
May 12, 2022 | Cindy Males, Public Relations and Communications Specialist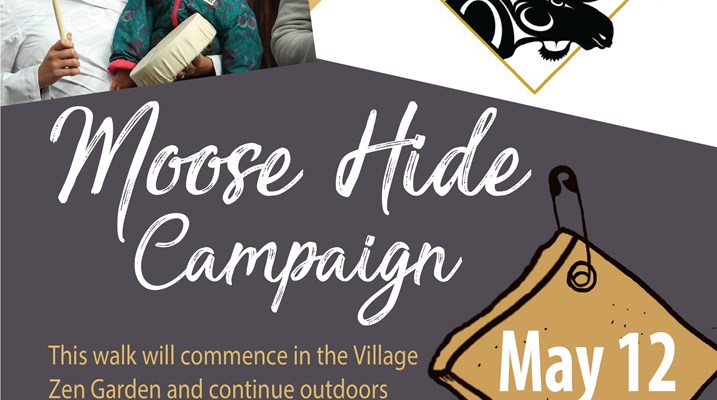 The Moose Hide Campaign began in 2011 as a grass-roots Indigenous lead movement against violence towards women and children. Today, it has grown into a nation-wide crusade. Canadore College has supported the campaign from the beginning, and this year held a special event at the College Drive Campus.
"The Moose Hide Campaign exhibits our commitment, as a post-secondary institution, to end violence against all women and children," said Judy Manitowabi, Director of Canadore's First Peoples' Centre and Indigenous Engagement. "This is a day of ceremony and reflection. As we continue to address reconciliation collectively, we invite all students and staff at Canadore College to take practical steps together on this day."
Following a welcome ceremony in The Stanford International College Wellness Garden, on the College Drive Campus, the group in attendance began a walk around the campus perimeter. Stations were set up along the route to provide teachings about Indigenous culture.
"It is a beautiful thing when we can come together to recognize and take action to items related to the 2015 Truth and Reconciliation Commission's 94 calls to action," said Gerard Peltier, First Peoples' Centre Recruitment and Retention Officer. "As a Canadore employee it is good to see the support for actions we as a collective undertake with such important events like the Moose Hide Campaign and to do our part in creating awareness and pledging to take a stand in ending violence against women and children".
Moose Hide pins – the campaign symbol - are worn by millions of Canadians as a sign of their commitment to honour, respect and protect the women and children in their lives. Pins were available at all Canadore campuses.
"The Moose Hide Campaign is a shared national experience that brings all of us together in solidarity in ending violence against women and children," said Shawn Chorney, Vice President, Strategic Infrastructure, Indigenous and Learner Services. "We must maintain a focus on addressing this ongoing issue as part of our work, community engagement, and action, every day."
"Research tells us Indigenous women and girls are the victims of violence more often than non-Indigenous women," said George Burton, President and CEO. "We wear Moose Hide pins as a sign of our own commitment to help end the crisis and create a safer world for all."
Canadore employees and students participated in a video pledging their support to end violence against women and children. It can be viewed here, https://youtu.be/iNsJve82CzQ
-30-
Canadore College trains people through applied learning, leadership and innovation. It provides access to over 80 full-time quality programs, outstanding faculty, and success services to students from nearly 400 Canadian communities and 25 international countries. The College, its students, and alumni add $369 million to the Nipissing Parry Sound service area economy. Approximately 1,000 students graduate from Canadore each year, and they join 48,000 alumni working across the globe. Canadore receives less than 50 per cent of its traditional funding from the provincial Ministry of Colleges and Universities and relies on its own innovation and entrepreneurial endeavours and generous donors for the balance.
For more information contact:
Cindy Males
Public Relations and Communications Specialist
705-475-2538
cindy.males@canadorecollege.ca
---
---