All Stories
Canadore College Recognizes the National Day for Truth and Reconciliation
Sep 28, 2022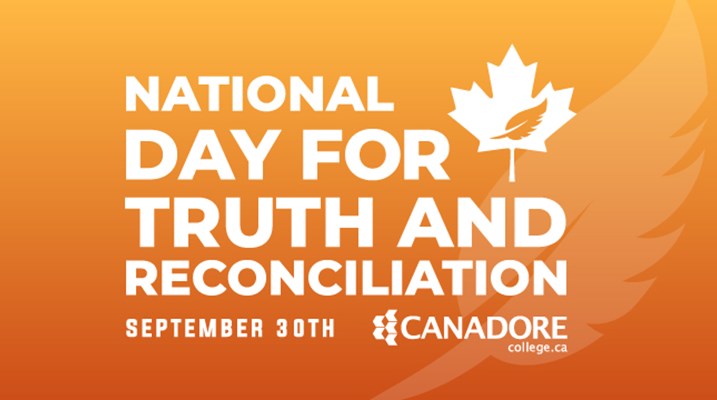 This week, as we do every year, Canadore will recognize Orange Shirt Day on Friday, September 30. This National Day for Truth and Reconciliation is a chance for us to not only remember the residential school experience of so many, but also to honour the survivors and their families.
This year in the lead up to Friday, orange is a prominent colour on all our campus screens and on our social media. An Every Child Matters flag is flying at Lower Residence.
We encourage everyone to wear an orange t-shirt on Friday. The First Peoples' Centre will be providing orange t-shirts at all campuses between 11 a.m. to 1 p.m. at the following locations:
College Drive – on the red tiles in the front foyer;
Commerce Court – in the cafeteria area; and
Aviation – in the front foyer.
T-shirts will be available from Laura Foltz at the West Parry Sound Campus on Friday.
Supplies of this year's shirt are limited. With an eye to sustainability, if you have a shirt from previous years, please wear that one.
The City of North Bay will be recognizing Truth and Reconciliation Day with a flag raising on Thursday, September 29, at 2 p.m. An Every Child Matters flag will be raised outside of City Hall, at Leger Square. Everyone is invited to attend.
The North Bay Indigenous Friendship Centre is hosting a Day of Learning and Support on Friday in recognition of the National Day for Truth and Reconciliation from 10 a.m. to 3 p.m. at the Centre, 980 Cassells Street. Everyone is welcome.
Canadore encourages employees and students to attend these events. We want to promote meaningful discussion about residential schools and the legacy they have left behind. Only through conversation and dialogue can we create an understanding that will lead to reconciling the past, and making sure these same tragedies don't happen ever again.
---
---