All Stories
Canadore College Releases Five Year Strategy for Indigenous Education
Sep 13, 2016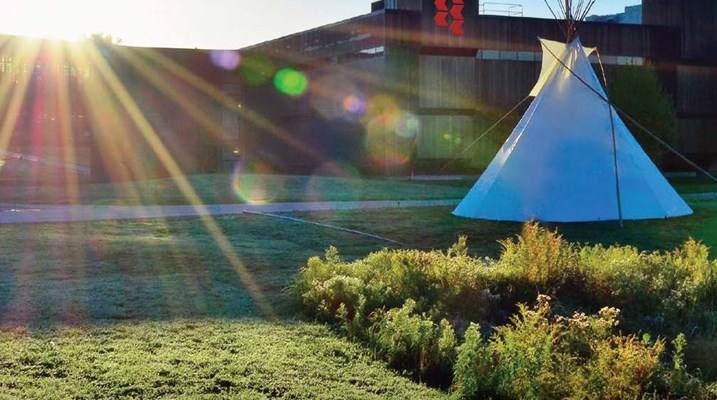 (NORTH BAY, ONT.) – After 30 years of delivering Indigenous education, Canadore College is launching a five year Indigenous education and services strategy to prioritize its efforts.
Developed by the College with extensive input from partners in education and Canadore's Indigenous Circle on Education, the plan focuses on the continued growth and development of Canadore's First Peoples' Centre.
"Canadore College is recognized as a leader in Indigenous education regionally, provincially and across Canada," said Shawn Chorney, Vice-President of Enrolment Management, Indigenous and Student Services. "In partnership with industry, community and government, we will provide leadership in cultural competency in the provision of programs, services and continued strategic direction mapped against our overarching organizational values."
Canadore opened the doors to its First Peoples' Centre in 2012 after operating in the Aboriginal Learning Unit for many years. The Centre's physical footprint is inspired by the teachings of the Medicine Wheel and reflects First Nations, Metis and Inuit culture, values, knowledge and traditional teachings.
Mary Wabano, the Director of the First People's Centre and Associate Dean of the School of Indigenous Studies says this plan is integral in achieving additional success and acts as a tool kit to measure how Canadore is performing on its commitment to the historical Indigenous Education Protocol it signed in February 2015.
"Education is multilateral and success is built on healthy relationships," said Wabano. "Canadore believes in honouring our commitments to students, partners and community. In this fast-paced world filled with opportunity, we will maintain our focus on integrity, trustworthiness, understanding and acceptance in all that we do."
The First Peoples' Centre has defined seven priorities in its strategy:
Make Indigenous education a priority.
Build relationships and be accountable to Indigenous communities in support of self-determination through education, training and established research.
Increase the number of Indigenous employees with ongoing appointments.
Create and maintain Indigenous-centred holistic services and learning for student success.
Increase understanding reciprocity of Indigenous and non-Indigenous people.
Reflect Indigenous knowledge and traditions in curriculum and learning approaches.
Strike a governance structure respectful of Indigenous people.
"Our plan respects the foundation that Canadore has laid in the first 30 years of delivering Aboriginal education, and is planning a legacy for the generations to come," said Wabano. "We are more than 5,000 proud Indigenous alumni strong working in communities across Canada. Great things are happening, with more to come."
Canadore College is home to Ontario's only accredited Indigenous addictions and Aboriginal fixed wing flight programs and recently launched a unique Early Childhood Education – Anishinaabemowin program. The College delivers 28 apprenticeship and postsecondary programs on reserves and First Nations communities and boasts a 80.5 per cent Indigenous student retention rate. Read more about Canadore College's 30 years of Indigenous education here.


Canadore trains people through applied learning, leadership and innovation. It provides access to over 65 full-time quality programs and has outstanding faculty and student services. Nearly 20 percent of Canadore's total student population is of Ojibway, Oji-Cree, Cree, Algonquin, Mohawk, Inuit or Métis decent from Ontario, Québec and nation-wide, one of the highest representations in the provincial college system.The College and its students add nearly $290 million to the regions of Nipissing and Parry Sound. Approximately 1,000 students graduate from Canadore each year, and they join 43,000 alumni working across the globe.
---
---