All Stories
Canadore College renews turtle conservation efforts
Jul 28, 2022 | Cindy Males, Public Relations and Communications Specialist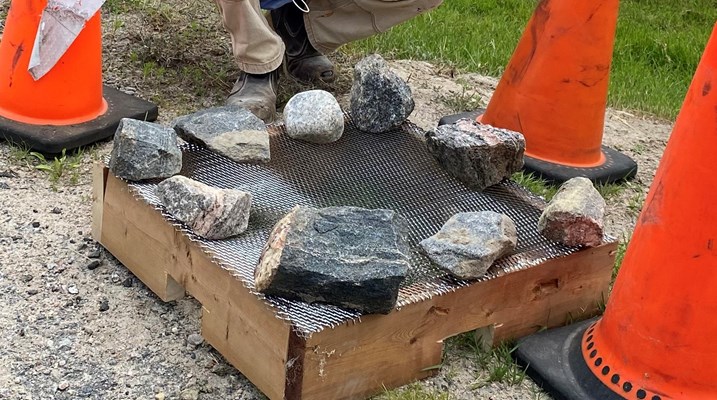 As part of its commitment to environmental sustainability, Canadore College has focused its efforts on turtle conservation on its North Bay campuses. Canadore has been protecting the Blandling's Turtle habitat at its West Parry Sound Campus since the facility was built more than a decade ago. The campus is located in the Brigg's Pond wetland, and it maintains a buffer zone around the pond. The campus gardens and grounds are kept in a natural state to not disturb the turtle habitat.
There have been sightings of different turtle species coming out of nearby waterways in search of places to nest on Canadore's North Bay campuses too. "Every year towards the end of May and beginning of June many nature enthusiasts stop to assist travelling turtles to cross busy roadways," said Krysta Warkentin, Health, Public Safety and Environmental Assistant. "It is also this time of year that we see an increased mortality rate of turtles on roadways because they are seeking breeding grounds and nesting sites."
"I came across an injured turtle on the road and desperately wanted to put the best effort forward in rehabilitation," she said.
Warkentin was able to get in contact with a turtle rescue centre out of Peterborough called the Ontario Turtle Conservation Centre. The Centre sent a turtle taxi driven by a volunteer to pick up the injured turtle from Canadore and delivered it to the rehabilitation centre. Canadore staff and students quickly caught wind of the turtle conservation efforts offered by the Ontario Turtle Conservation Centre and immediately jumped into action to bring turtle conservation to the College.
Nesting turtles dig into the soil and then bury the eggs, but unlike birds they do not tend to their nests, or care for their young once they've hatched. The nests are easily found and destroyed by predators such as raccoons, skunks, and foxes. Very few turtle eggs hatch and grow to adulthood.
All eight turtle species in Ontario are designated as species at risk, meaning they are likely to become endangered if nothing is done to reverse factors that could lead to their extinction. While adult turtles have very few natural predators and enjoy high survival rates and long lifespans, it can take decades of nesting for just one egg to survive to replace the turtle that laid it.
"A female painted turtle was observed digging a nest next to a busy road at the College Drive campus," said Warkentin. "The sighting was reported to campus security, and shortly after Timothy Anderson, Construction and Maintenance Technician, built Canadore's first turtle nest protector," said Warkentin.
The turtle conservation efforts progressed to the Commerce Court Campus where Connor Andrews, Building Construction Technologist, and Building Construction Technician program student, Kira Mannisto, built a second turtle nest protector.
Nest protection projects like the one at Canadore increase the chance of the eggs' and hatchlings' survival. The nest protectors consist of a wooden frame with narrow gauge mesh, and are staked securely in the ground. Notches or escape routes are cut out of the frame so hatchlings can get out but predators can't get in.
"Kudos to Krysta and the team for their initiative in creating these turtle nest protectors," said Jesse Russell, Sustainable Development Project Leader. This type of story speaks to the collaboration shown by staff and students at Canadore."
May to July is the time to be on the lookout for turtles. Turtle hatchlings generally emerge from their nets as early as April, and as late as August/September.
If you see a turtle on campus here is what you should do:
If the turtle is in a grass or forested location, observe it from a distance and do not disturb it.
If the turtle is spotted moving across a parking lot or a paved surface, it is helpful to pick the turtle up and carry it out of harm's way to the edge of the pavement in the direction it was travelling. Be sure to wash your hands thoroughly after handling a turtle.
If a turtle is seen digging a nest anywhere on campus, observe it from a distance and do not disturb it. Take note of the location and contact Canadore Security at 705-498-7244. A member of the Security team will place a protector over the nest once the female has left the area.
Great things happen here and every small contribution is a step towards a more sustainable future for all of us.
---
---