All Stories
Canadore College's First Peoples' Centre turning to digital audio to attract students
Jul 29, 2022 | Cindy Males, Public Relations and Communications Specialist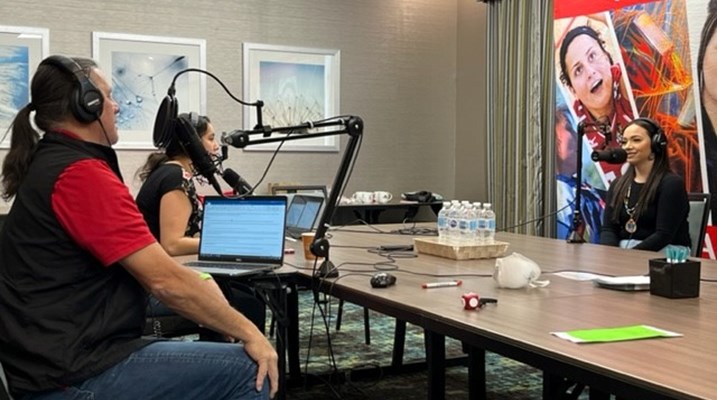 The First Peoples' Centre at Canadore College will be sharing success stories from its Indigenous alumni on a newly-launched podcast meant to celebrate past accomplishments and to entice new learners with the opportunities available to them at Canadore.
The podcast is called Minwaajimo, which means "to tell a good story" in Anishinabemowin and is hosted by Gerard Peltier, Recruitment and Retention Officer.
"Story-telling is part of our rich Anishinabek culture and history. It is how we share, entertain and preserve our memories. We hope our listeners can see themselves in our guests as they tell their stories," said Peltier.
"Each story is unique and relatable. Our goal is to reach potential students, their parents, guidance counsellors and decision makers to provide them with information that will make Canadore College their choice for post-secondary education, to share the message of how important education is to our First Nation, Inuit and Metis populations," he said.
Peltier's niece, Shanna Peltier, a PhD student in School and Clinical Child Psychology at the Ontario Institute for Studies in Education at the University of Toronto, is helping to produce the monthly podcasts.
"It is time to share the strength of Indigenous peoples across all facets and paths in life," said Shanna Peltier. "Indigenous students are succeeding against all odds and continue to take up more and more space within post-secondary institutions, and advocate for the changes necessary to foster their well-being within those spaces. This project is important because Indigenous student success is important, and already happening."
"I will always talk positively about Canadore because it had a big impact on my life," said Nathalie Restoule, a graduate of Canadore's Indigenous Wellness and Addiction Prevention program, and one of the first podcast guests. "I really found myself there."
"Being able to share stories will help students feel more confident going to post-secondary school. We all have gifts and we all have a purpose, and it's just to find that within you. You just have to believe in yourself," she said.
Minwaajimo can be found on Facebook and Instagram as well as anywhere podcasts are available including Spotify, Google, and Apple Podcast.
"These good stories should be told. We should celebrate our successes more," said Gerard Peltier. "Minwaajimo is a place to celebrate our Indigenous journeys in education at Canadore College."
#Experiential Learning #First Peoples' Centre #Indigenous Studies #Recruitment
---
---