All Stories
Canadore College's first TEDx now available for online viewing
Feb 24, 2023 | Cindy Males, Public Relations and Communications Specialist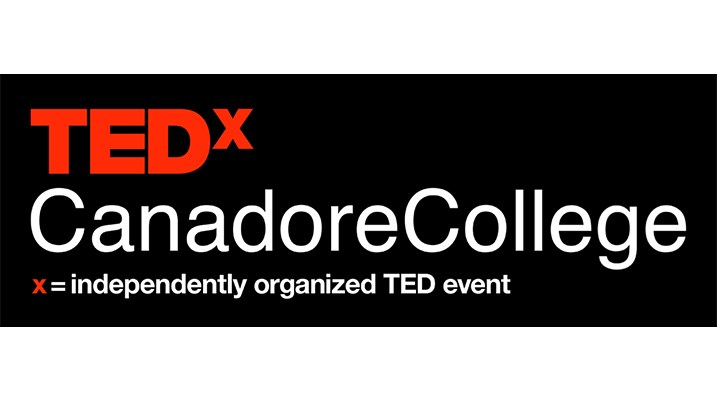 The COVID-19 pandemic brought many changes to all aspects of life, including social interaction, and how society functions. While the post-pandemic world will have its share of challenges too, it will also present new opportunities to discover novel ways of thinking and understanding. That was the premise of the first CanadoreCollegeTEDx, held at College Drive last fall.
"The whole premise of TEDx is to provide a space for innovation in thinking and creativity, without boundaries, while being supported by evidence and literature," said Dr. Christina Deroche, Director of Canadore's Research Centre. "CanadoreCollegeTEDx invited attendees to question their perceptions and challenge their thinking. That is exactly what research does every day. Applied research provides a foundation for innovation, challenging current notions and thinking, and broadening our scope and horizons."
TEDx is a grassroots initiative created in the spirit of TED's overall mission "to research and discover ideas worth spreading." TED began in 1984 as a conference where Technology, Entertainment and Design came together. Today, it covers topics from science to business to global issues. Independently run TEDx events, like the one at Canadore in late October, help share ideas around the world.
Three panelists led the CanadoreCollegeTEDx. Dr Naveed Aziz, CEO of CGen, Canada's national platform for genome sequencing and analyses; Joseph Pitawanakwat, founder of Creators Garden, an outdoor education-based business that teaches about hundreds of plants from Canada's Great Lakes region, focusing on how they can optimize human health; and Rocco Rossi, the President and CEO of the Ontario Chamber of Commerce. Together with the audience they explored how, in a post-pandemic world, we, as a society, can build new ideas, processes, and thoughts from emerging evidence and applied research.
"Events like TEDx are crucial to tackling systemic issues and addressing concerns at every level," said Jessica McMullen, a student volunteer who helped to organize the event. "TEDx allows people from all walks of life to access groundbreaking ideas that can be applied across personal lives and various professional fields. I was glad to take part in such an event for Canadore College."
CanadoreCollegeTEDx was organized by a cross-college committee that is thrilled with the response the inaugural event received. The group is planning a second CanadoreCollegeTEDx event for this year.
The event can be viewed on YouTube at:

Talent: The Glue that Binds the Supply Chain | Mr. Rocco Rossi | TEDxCanadoreCollege - YouTube
Convergence of Divergence: The Mysteries of the Human Genome | Dr. Naveed Aziz | TEDxCanadoreCollege - YouTube
Rocco Rossi: Talent: The Glue that Binds the Supply Chain | TED Talk

Dr. Naveed Aziz: Convergence of Divergence: The Mysteries of the Human Genome | TED Talk


#Corporate Communications #Events #Research #Academic Centre of Excellence
---
---